National day of the Kingdom of Saudi Arabia celebrated in grandeur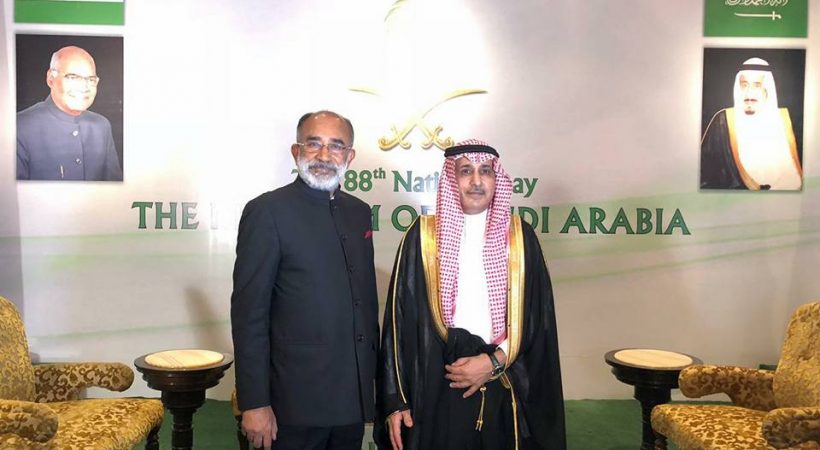 Saudi Arabia,solemnly commemorated the 88th National Day of the country and on the occasion, the Crown Prince, Mohammed bin Salman addressed the country at Riyadh remembering the  past glory. He praised the nation's growth under King Salman, saying that while Vision 2030 looks forward to the future, Saudi Arabia will remain committed to the principles of Islam; the religion of tolerance and moderation.In addition, if not all that was enough, King Salman added an extra day, Monday, to the holiday.
Many countries including India celebrated the day showing respect to Saudi Arabia.
The National Day of the Kingdom of Saudi Arabia  celebrated at New Delhi. Central Tourism Minister Alphonse Kannamthanam was the chief guest of the event and he interacted with the Saudi Ambassador to India, Mr. Saud bin Mohammed Al-Saty. The Burj Khalifa was illuminated with the Saudi flag, while the Nasdaq Tower's digital billboard in New York's Times Square was lit up with photos of King Salman, Crown Prince Mohammed bin Salman and the flags of Saudi Arabia.
In Lebanon, Pigeon Rocks, in Raouché off the coast of Beirut, were lit in the colors of the Saudi flag.The UAE's airlines got in on the game. Emirates operated a special one-off A380 service on Sunday to Riyadh, and crew handed out scarves emblazoned with the countries' flags. Not to be outdone, Etihad said it was using the only Saudi A380 pilot in the world, Wesam Sameer Al-Najjar, to fly its Year of Zayedflight to Jeddah with the UAE Captain Ahmed Almalood.