A Journey of Female Strength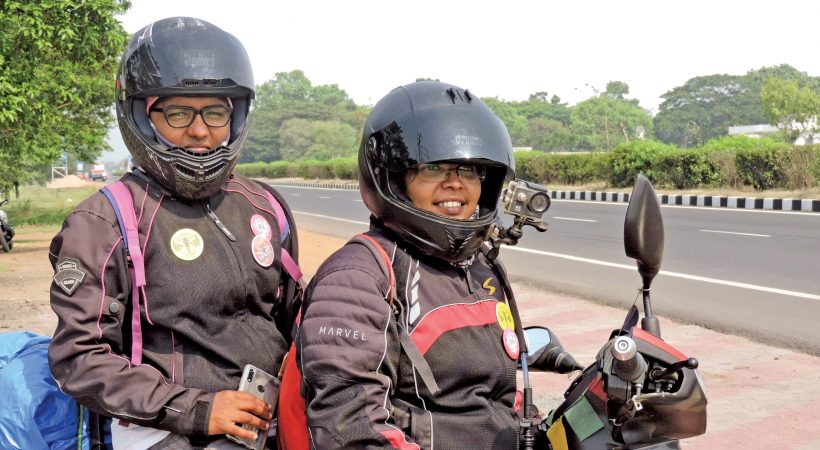 Sajna Ali from Kozhikode and Tuna Sebastian from Ernakulam do not wish to limit themselves to the four walls of their house. Instead they have been on a journey to visit new places and to encounter new ideas. At the same time they do not forget the fact that they too are socially responsible citizens of the nation. Completing a bike ride which took them all over the country, Sajna and Tuna were not just tourists but the advocates of blood donation wherever they visited. Their blood donation campaign was named 'Ride for Blood' and both of them have been active members of other blood donation campaigns and camps. Their journey on the bike was not just an idea that was born in a day. But rather, they had been planning quite a lot for it as the ride included awareness creating events, leaflet distribution and contacting blood donation campaign groups in various parts of the country.
The main villain during the journey was the scorching heat of the summer and subsequently, they started their journey early in the morning everyday till five in the evening. They also met almost sixty other socially committed groups which campaigned for blood donation. After the convictions and insights they received during the journey, they are preparing for more projects and activities which would commence soon.  The journey that they started from the Kanakakunnu Palace at Trivandrum took them through 20 destinations including Madurai, Chennai, Vijayawada, Kolkata, Varanasi, Delhi, Amritsar, Pune and Goa before they came back to Trivandrum. Both Sajna and tuna are employees of Techno Park, Trivandrum. They also shared the pictures and experiences of their journey through various social media platforms.
Back from their journey, they received a warm welcome organized by the All Kerala Blood Donors Society. The All Kerala Blood Donors Society and Thejus Blood Donors Forum organized the all India ride and it involved the cooperation of the Central Government agency 'Federation India Blood Donors Organization'. The ride was sponsored by the Japanese Company TerumaPenpol