Actress Amala Paul shares her Yoga pictures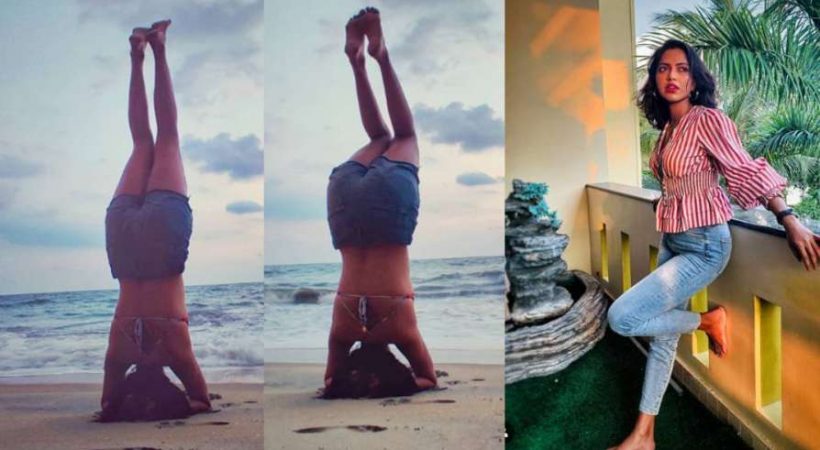 Actress Amala Pual's latest instagram post of her practicing Shirshasana in the background of black pre-dawn went viral. As a seasoned yoga practitioner she had previously attributed her slimness and liveliness to yoga.
A time to set your INTUTIONS, like planting seeds. I have been following this POWERFUL RITUAL during #newmoon to take some time to myself, be introspective and bring to the surface everything I want to RESET, REALIGN and INITIATE in my life.
A time to REFLECT, PLAN and IMAGINE or just simply be GRATEFUL. .
.
I set an intention to feel truly CARED for and SECURE in MY BODY. To let go of PERFECTION, embrace my FLAWED-SELF and to surrender to the FLOW OF LIFE.
To remind myself that accumulating MATERIAL OBJECTS or SHALLOW RELATIONSHIPS won't lead to a genuine SENSE OF SECURITY – that comes from deep sense of SELF-LOVE and SELF-RESPECT.
To be GRATEFUL for what I have been able to enjoy and the DEEPER CONNECTIONS I have been able to make during this SELF-SEQUESTERING. She wrote in her instagram post.
The actress had earlier responded the quires asking about her marriage gossips which were in headlines recently. Amala said  she had no  time to discuss such rumours as she was busy in her works. It was Singer Bhavinder Singh from Mumbai who shared the pictures with her actress on his instagram account.
After that it was said that the two were got married. Later as the photos got disappeared from the handle it was spread that both of them were separated.
Anyway, the actress neither denies nor accepts those rumors.