Andhra Pradesh's new capital Amaravati to host international F1 powerboat racing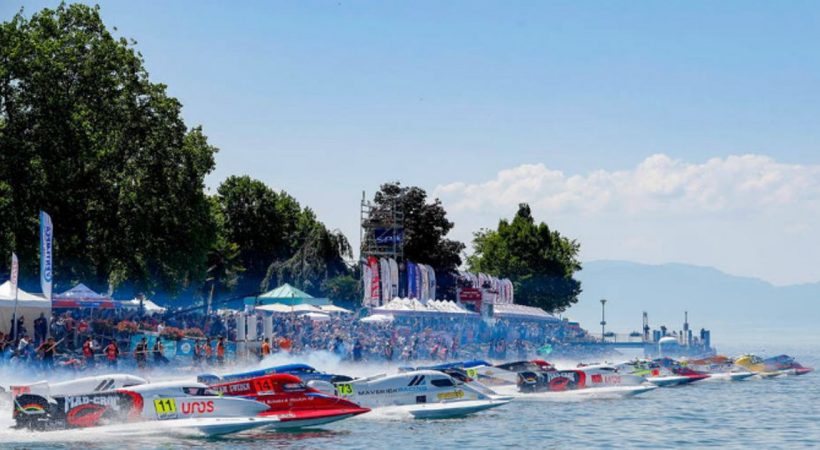 The upcoming capital city of Andhra Pradesh, Amravati is hosting the much-awaited powerboat racing of the year, F1H2O. The sixth round of UIM World Championship is scheduled to take place from November 16 to 18 on the River Krishna in Andhra Pradesh, India's southeastern coast. The event is being organized in collaboration with India Extreme Adventure and Andhra Pradesh Tourism Department. The championship will witness the skills of teams from Amaravati India, along with seven other major cities across the globe including Portugal, UK, France, Italy, China and UAE.
Formula 1 Powerboat racing (F1H2O) world championship is making a grand comeback to India for the first time since 2004, and is all set to mesmerize the Indian audience and speed aficionados at the picturesque city of Amaravati.SandeepMandava, CEO India Extreme Adventure said, "We are thrilled to bring an international event of this stature to the Indian shores. F1H2O is immensely popular across the globe and has popularity almost equal tothe F1 motorsport. This is our endeavour to put India on the global map of this exciting sport with the help of Andhra Pradesh Tourism Board and the State Government. We foresee the Indian leg of the F1H2O Grand Prix becoming one of the most awaited sporting events in the country going forward."
The last Indian edition of F1H2O was held in Mumbai in 2004 and was won by Francesco Cantando of Italy. This year's championship commenced in Portugal on May 18 and will end with the last race-taking place in Sharjah on December 15. The highly acclaimed water sport will have high-end amenities for the teams and volunteers along with top of the line excitement on the offer for the visitors. The race season has kicked off in China with the drivers and squads all set to make a phenomenal comeback in the UIM F1H2O World Championship.
The exciting g battle resumes after a brief break, at the Agile Grand Prix in Xiangyang, China from September 21 to 23. Xiangyang in Hubei province will be the 11th city in China to host a round of the prestigious championship.
Team Abu Dhabi is leading the championship chart with 41 points and a victory in Xiangyang will balance the Grand Prix hat-trick which was last achieved by Scott Gillman in 2004. Team Abu Dhabi has performed tremendously well in London and Evian, which has thrown them to the pole position.
Team Amaravati is enthusiastically preparing to enthrall the F1H2O water sport lovers in China and the world. Team head anddriver Jonas Andersson and partner Erik Edin are fully geared up to face stiff competition from across the globe.