"As economic activities pick up, fight against Covid-19 has to be more focused": PM Modi tells States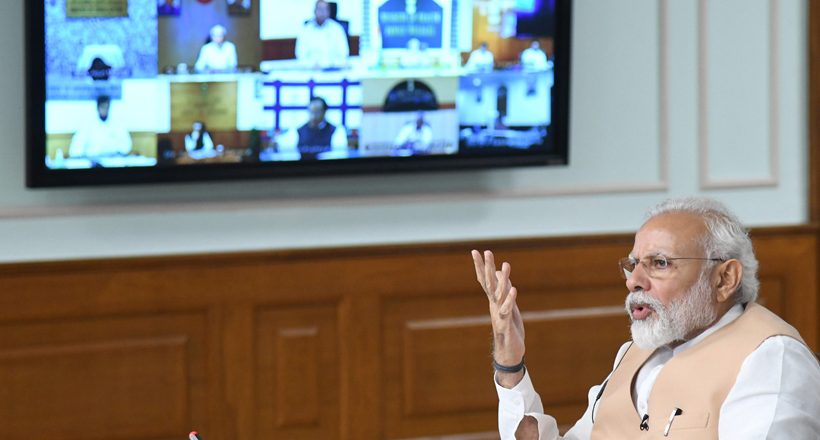 As India preparing for the final phase of the 54-day nationwide coronavirus – induced lockdown, Prime Minister Narendra Modi had a chat with the chief ministers of the states on Monday to discuss the road ahead. This was the fifth meeting that the PM held with the state chief ministers since the outbreak.
The Prime minister had said in his fifth video conference meeting with state chief ministers "There is global recognition for India's success in handling the pandemic and Govt of India appreciates the efforts made by all state governments in this regard. Let us stay the course as we move forward together."
"Slowly but surely, economic activities have begun to pick up in several parts of the country. In coming days, this process will further gather steam. We must realize that fight against Covid-19 has to be more focused now. Going forward, the road ahead should be focused on reducing the spread and ensuring that all precautions are taken by people including social distancing norms by observing 'Do Gaj Doori' (six-feet distance)," Modi added.
He asked the CMs to ensure that rural India remains free from the pandemic.
As Andhra Pradesh CM Jaganmohan Reddy had requested relaxation in lockdown measures, with strict following  of personal hygiene protocols Bengal Chief minister Mamata Banerjee said that the Centre need not play politics at a time when the coronavirus pandemic has seized the country. Gujarat wants lockdown only in the containment zones. Chhattisgarh CM Bhupesh Bhagel sought permission from Center to allow states to define red, orange and green zones. Report said.
At the same time "We now have reasonably clear indication as to the geographical spread of the pandemic in India, including the worst affected areas. Moreover, over the past few weeks, officials have understood operating procedures in a time such as this, right up to the district level," Modi told the CMs.