Ayush Ministry to introduce 5 minutes Yoga-Break in Government institutions and corporate bodies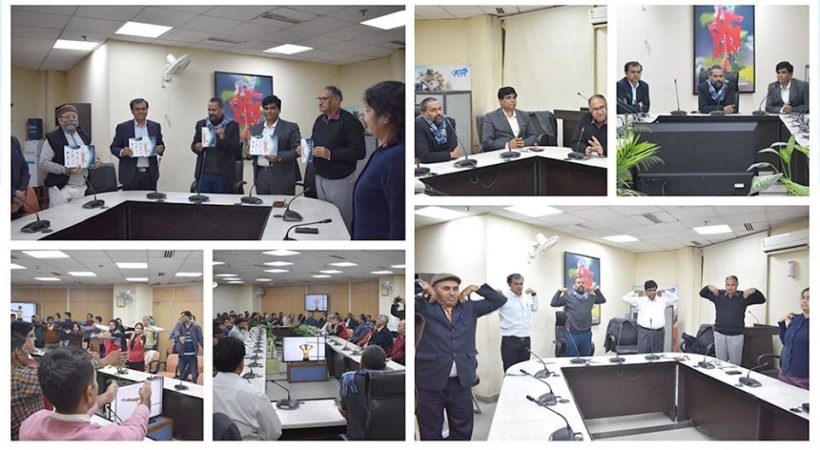 Y-Break/Yoga-Break Protocol was launched on 13th January on a trial basis at the Ministry of AYUSH by P.N. Ranjit Kumar, Joint Secretary, Ministry of AYUSH, Govt. of India.The event was graced by Dr. Ishwar V. Basavaraddi, Director MDNIY & Adviser (Y&N); Dr. D.C. Katoch, Adviser (Ayurveda); Vikram Singh, Director, along with many officers and staff of Ministry of AYUSH, Govt. of India.
Director MDNIY conducted the 5-minute protocol session for the officers and staff of the ministry and also highlighted the benefits of the Yogic practices of the protocol with the practitioners.
Y-Break or Yoga Break is a 5-minute exercise designed for the workplace to help professionals to de-stress, refresh and re-focus. It consists of a few 'light' practices that can be done by taking a 5 minutes break from work.The Y-Break Booklet was launched by Shri Shripad Naik, Hon'ble MoS (IC) for AYUSH & MoS for Defence on 13th January, 2020. The Booklet was developed by MDNIY.
Y- Break Trials are in progress across different volunteering partner institutions in different cities of the country.Earlier, the Ministry of AYUSH had congratulated M/s Axis Bank, Mumbai for being a part of this effort, and for agreeing to provide feedback from the volunteering officials at the end of the the trial period.