Back to Life: Kerala couple, 93 and 88, who recovered from COVID-19 were discharged from Hospital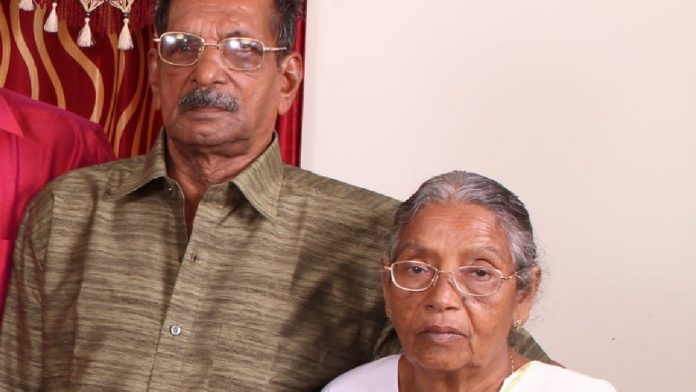 After  recovered from deadly coronavirus disease Covid-19
, Thomas Abraham 93,and his 88-year-old wife Mariyamma, were discharged from the Kottayam Medical College Hospital in Kerala, India. They are the oldest couple in India to be recovered from the Covid19 and they belong to Ranni in Pathanamthitta district in Kerala. What makes their story remarkable is that that they're both older than 80 and patients older than 60 are at  higher risk from the infection, and recovery is usually fraught with age-related complications.
They got the disease from their children and grandson who had just returned from Italy. Right now, the whole family has recovered from the deadly disease and is doing well. The elderly couple was treated at the Kottayam Medical College.
Thomas, 93, and Mariyamma, 88, had contracted the novel coronavirus from their son, who had traveled to Italy. The infection was transmitted to four others in the family. The entire family underwent treatment at Kottayam Medical College, and have since recovered, said an official from the Kerala health department. Except for the couple, all the relatives were discharged Monday.
"However, the elderly couple were literally brought back to life from death," a press release from the Health Minister's office said. They were diabetic, had hypertension and other old-age related diseases.
The elderly man, 93, had developed severe cough, chest pain and urinary infection and was diagnosed as vulnerable to heart issues. He had to be put on a ventilator as well. His wife, too, had developed severe urinary and bacterial infection which further worsened her condition, according to officials.
Recovery for the elderly couple was trickier since they had to be monitored closely for age-related complications. At one point, the couple went back to their house against the doctor's advice, but they were brought back to the hospital and put in quarantine.
Forty medical staff led by seven doctors at the Kottayam Medical College kept track of the family's progress along with the other coronavirus victims.
"We are very grateful to all the doctors and nurses who helped us recover quickly and also helped us think positively," Rijo said.
Health Minister KK Shailaja had given directions to do everything required to ensure their recovery. Initially, when the couple was admitted they were admitted in two different VIP ICU rooms. This made them restless and uncomfortable. They were later shifted to the same ICU room so that they could see each other. The press release said that, initially, the elderly couple were adamant on returning home and even refused food, but the nurses dealt with them with compassion and care.
The Ranni Hospital authorities organised a cake and dinner for the family members when they got discharged on Monday, and also gave them a kit containing essential items such as hand sanitizer and hand wash as a parting gift. Their homes were thoroughly disinfected by the district authorities before the family moved back.
According to Dr Ashis Mohan and Dr Sharat, who treated the family, they will be in strict home quarantine for two weeks. After that, they will be brought in an ambulance back to the hospital, their samples taken for testing and then once the results are back, we can be 200 per cent sure that they have full recovered.
In a sad turn of events, one of the nurses who treated the elderly couple "as her own family" was later tested positive for the highly contagious virus. A nursing staff at Kottayam Medical College, Reshma Mohandas recovered after self-isolation for few weeks. She said that she would like to get back on duty after following the protocol of being in quarantine for 14 days. Minister, KK Shailaja spoke to her personally and assured that the entire health department is with her.
At the same time, The secret behind their recovery seems to be the healthy lifestyle they have been leading, said Rijo Moncy, their grandson. He said Thomas, a farmer in Ranni sub-division of Pathanamthitta district, is a very healthy person being a teetotaller and non-smoker. "Even without going to the gym, he had a six-pack body."
Abraham loves Pazhankanji, Kerala's own super food made of rice gruel, and tapioca or jackfruit snacks. And that's what he insisted on eating while confined in the isolation ward of the Kottayam Medical College Hospital. Coronavirus is known to be especially deadly for elderly people.