BCCI gets new 'skipper' Sourav Ganguly promises corruption- free reign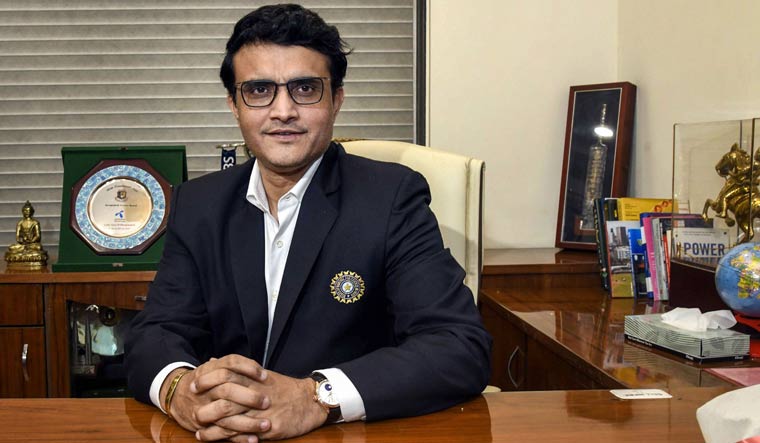 "It's the first day I sat on a chair where some stalwarts have sat. It was the same when I became the captain as well. There were some great names who led the country before me. I have a role to do. and I will do that to the best of my ability,"
Former India captain Sourav Ganguly has taken over charges on Wednesday as the 39th president of Board of Control for Cricket in India.
Ganguly, 47, is the first cricketer president of the BCCI after Maharaja of Vizianagaram in 1954. He has been holding the position of president of Cricket Association of Bengal since 2015.
Ganguly was unanimously chosen for the prestigious position as nobody else filed nomination when it came up for election early this month.
Beginning his new innings as president of BCCI he said while addressing the media that he would run BCCI the way he led India. He promised a corruption-free reign.
Considered one of the most successful cricketers, Ganguly was captain of Indian team from 2000 to 2005. He played 113 Tests and 311 One-Day Internals and led the national team to many memorable victories that included the one against England in Leeds in 2002, Australia in Adelaide in 2003 and Pakistan in Multan in 2004. The team under his captaincy had also won the NatWest Trophy in 2002 and played in the 2003 ICC World Cup final.
Ganguly said at a Press conference after becoming the new president of BCCI , "I will do it my way. I will do it the way with no compromise on credibility, corruption-free and same-for-all BCCI. That's the way I led India and that's the way I will take this organization forward."
"It's a young group and we will have to do a lot of hard work. There were no working committee meetings, I don't know how it has happened last year. We will take note of everything and do it to make sure it's the best for BCCI and Indian cricket. We all must understand we are here to work for BCCI and that the job for us," he added.
"It's the first day I sat on a chair where some stalwarts have sat. It was the same when I became the captain as well. There were some great names who led the country before me. I have a role to do. and I will do that to the best of my ability," he said.Ganguly praised Virat Kohli and said, " Virat Kohli is the most important man in the Indian cricket, We will listen to him. Mutual respect will be there, opinions will be there. We will support him in every possible way, whatever he wants."
On former captain Mahendra Singh Dhoni, he said, "He is one of the greats of the game and India is proud to have MS Dhoni over a period of time. If you even sit down and take a note of what he has done, you say, 'Wow, MS Dhoni.''
He added, " Champions don't finish very quickly. Till I am around,everybody will be respected."
The new BCCI team
Sourav Ganguly- President
A former India captain, he has been the president of Cricket Association of Bengal (CAB) since 2015.
Mahim Verma- Vice-president
Secretary of the Cricket Association of Uttarakhand
Jay Shah- Secretary
Son of Union home minister, Amit Shah, Jay has been the joint secretary of Gujarat Cricket Association (GCA) since 2013.
Jayesh George, Joint Secretary
Jayesh George has been office-bearer for over five years with Kerala Cricket Association
Arun Singh Dhumal – Treasurer
The younger brother of former BCCI chief and current MoS, Finance, Anurag Thakur, Dhumal has been head of the Himachal Pradesh Cricket Association (HPCA)
Prabhtej Singh Bhatia, Councillor
Son of former Chhattisgarh Cricket Sangh president Baldeo Singh Bhatia, Prabhtej is the youngest member of the Apex Council. He has been taking care of the state association. Former India cricketers Anshuman Gaekwad and Shanta Rangaswamy are the men's and women's ICA representatives in the apex council
IPL Governing Council
Brijesh Patel
A former India player, Patel has previously served as chief of Karnataka State Cricket Association
Khairul Jamal Majumdar
Known as Mamon in Northeast cricketing circles, Majumdar is new to BCCI administration. He will be joined by former India international, Surinder Khanna – an ICA representative – in the IPL Governing Council.