Bill Gates top on the list of richest in the world, Mukesh Ambani is 12th : Bloomberg Billionaire Index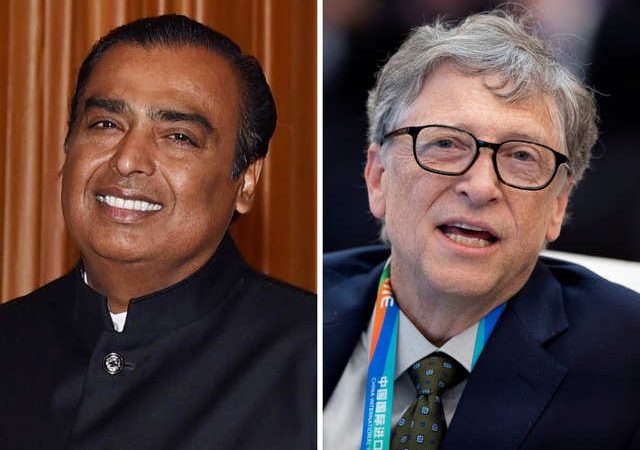 India's super rich Mukesh Ambani, chairman and managing director of Reliance Industries is world's 12th richest person, according to Bloomberg Billionaire Index.
Mukesh Ambani is worth $59.4 billion. 
However, most of the top five people on the list belong to the United States. 
According to Bloomberg, the wealthiest person in the world is Bill Gates, co-founder of Microsoft with a net worth of $110 billion.
He is followed by Jeff Bezos, founder, CEO and president of Amazon.com with a net worth of $109 billion.
Others in the top five are Bernard Arnault, French billionaire business magnate and art collector, worth of $101 billion; Warren Buffett, chairman and CEO of Berkshire Hathaway, philanthropist and investor, worth of $86.40 billion and Mark Zuckerberg, co-founder Facebook, internet entrepreneur and philanthropist, worth of $74.10 billion.
Apart  from Mukesh Ambani, Azim Premji, founder of IT  major Wipro, ranked 56th,  who is worth of $ 19.1 billion, Shiv Nadar, founder and chairman of HCL, ranked 84, worth of $15.6 billion,  and Uday Kotak, executive vice-chairman and managing director, Kotak Mahindra Bank , ranked 98, worth of $14 billion are among the first 100 on the list of richest people in the world.
India's wealthiest on the list
India rank
World rank
Name
Total net worth ($ bn)
Industry

1

12

Mukesh  Ambani

59.4

Energy

2

56

Azim Premji

19.1

Technology

3

84

Shiv Nadar

15.6

Technology

4

98

Uday Kotak

14.0

Finance

5

110

Lakshmi Mittal

12.7

Commodities

6

159

Radhakishan Damani

9.7

Retail

7

165

Gautam Adani

9.3

Industrial

8

195

Cyrus Poonawalla

8.3

Healthcare

9

216

Dilip Shanghvi

7.7

Healthcare

10

265

Nusli Wadia

6.7

Diversified

11

267

Sunil Mittal

6.6

Media & telecom

12

270

Benu Gopal Bangur

6.5

Commodities

13

275

Savitri Jindal

6.4

Commodities

14

310

Kumar Birla

6.0

Industrial

15

346

Rahul Bajaj

5.5

Diversified

16

391

K P Singh

5.1

Real estate

17

458

Vikram Lal

4.5

Industrial

As on 21 November, 2019; Source: Bloomberg
Praveen Vikkath