Bulgarian Football Coach Praises Kerala Government's effort to contain Covid-19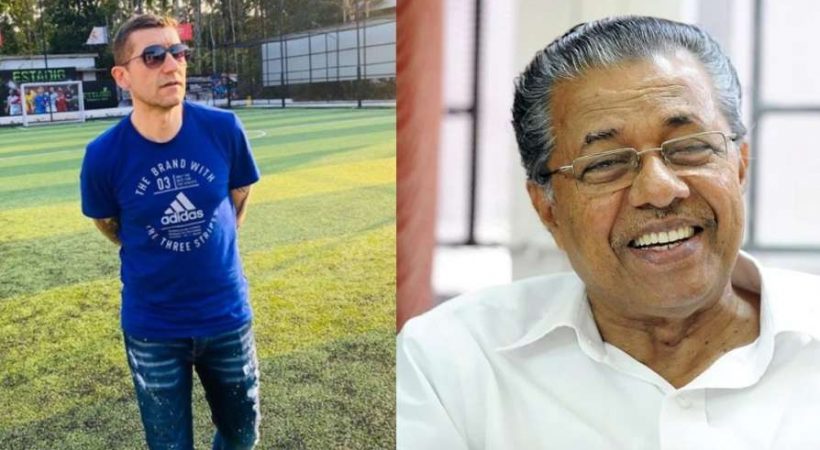 Dimitar-pantev, a Bulgarian football coach who is currently under lockdown in Kerala, is all praise for the state administration and health department for their excellent work in the time of coronavirus  pandemic in the state .Pantev who reached Kerala on 4th March on an official purpose said in his facebook post that he is lucky to be in Kerala in this time of pandemic as his country Europe and other western nations are struggling to cope up with the killer virus spread.
He also praised the state's  warm hospitality which he received during his stay.
His Facebook Post:
My covid 19 lockdown days in Pattambi – Kerala
I was enjoying my short vacation at my hometown, Varna, Bulgaria, during the celebrations of 2019 X-mas/New year after coming back finishing my coaching contract with AL JAMAYA club, Hebroon,Palestine.
During that time, I got a call from my Dubai based friends (Riyas Kasim & Yusaf Ali) who are actively engaged in various football tournaments/activities there, to discuss about "H16 Sports Services" which is Headquartered at Dubai under the leadership of a former UAE International Football player Mr.Hassan Ali Ibrahim Al Blooshi, to start their international training centre at Kerala, one of the fastest developing and 100% literate states of India, in order to provide the highest standard of football coaching without compromising in the quality of service.
H16 Sports Services requested my expertise for doing this experiment/study on the feasibility of a highly professional training centre with the motivation and vision of providing the best skill development program for the football lovers of Kerala.
For this noble reason, I had taken this role with H16 Sports Services with utmost pride to provide the necessary guidance/role to deliver international quality service.
Hence, on 4th March 2020, I landed at Calicut International Airport, Kerala, met and travelled with my new friends Mr.Vava & Mr.Kunjanu to my accommodation and visited few other nearby places.
For me, there was no words to express the warm welcome that was accorded to me and the hospitality extended, beyond that I was surprised by the spell bounding hidden/natural beauty of this wonderful God's Own Country, which truly deserve that name.
Few days after it, the Corona Virus was declared as a Pandemic and the state of Kerala along with the rest of the nation and the world went into preventive measures to control the spread of the virus. At no point I was worried or felt like going home, the way the Chief Minister of the state Honourable Mr.Pinarayi Vijayan, took charge of the situation, leading from the front with his Health Minister, Ms.Shylaja Teacher, was an eye opener in disaster management and I am so glad I was witness to their super efficiency in managing the disaster with available resources and very happy they are getting international acclaim for their commitment and hard work in the fight against this dreaded disease.
Ever since the quarantine period was in force in Pattambi Municipality, Muthuthala Health Inspector Mr. Priya Das and other officials of the Health department kept checking on me, giving safety instructions and calling up on the phone everyday to ensure my health status. The officer of Pattambi Police station Mr.Mohana Krishnan (Assistant Sub Inspector of Kerala Police, Special branch), was very particular in following his Government's instruction and keeping an hawk's eye for the well being of the foreigner, that was me.
I was and am still dumbstruck to hear about the spread and the disaster Corona Virus has created in Europe and I feel truly blessed that Kerala is the place that I was at in the times of the Virus. I hope and looking forward to meet Mr. Pinarayi Vijayan and Ms.Shylaja teacher personally to convey my family's thanks and good wishes. I am very grateful for the kindness and good heart of the Kerala Football Association and the local football groups for their thoughtfulness.
My covid 19 lockdown days in Pattambi – KeralaI was enjoying my short vacation at my hometown, Varna, Bulgaria, during…

Dimitar Pantev ಅವರಿಂದ ಈ ದಿನದಂದು ಪೋಸ್ಟ್ ಮಾಡಲಾಗಿದೆ ಶನಿವಾರ, ಏಪ್ರಿಲ್ 11, 2020