Dhoni on sabbatical, will do patrolling and guarding in Kashmir Valley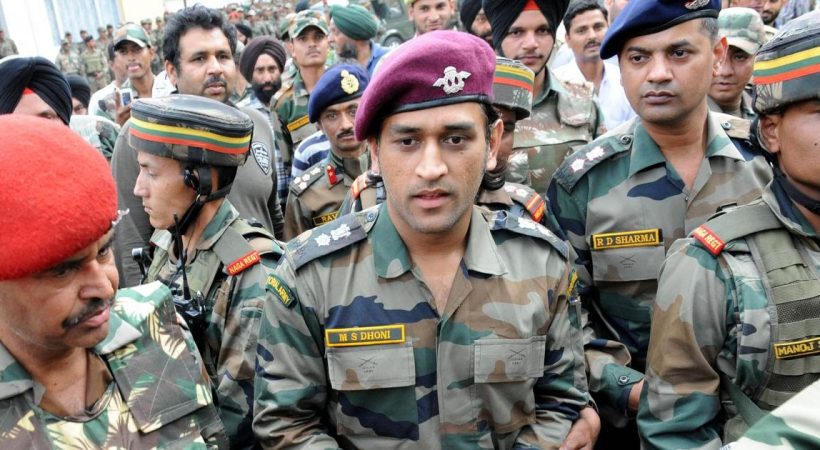 Silencing all speculations and rumours  for the time being about his retirement from cricket after World Cup 2019, M S Dhoni, former captain of the Indian Cricket Team  and wicket keeper- batsman, has taken a two months' sabbatical for training with his regiment, the 106 TA Battalion Para of Territorial Army, situated in the Kashmir Valley, as part of the Victor Force.
Dhoni, a Lieutenant Colonel (Honorary)  in the Territorial Army will soon take up his duties , such as patrolling,   guarding and other post-duty engagements along with army men posted in the Kashmir Valley. According to reports quoting an army statement, the ace  cricketer will be in Kashmir for 15 days from July31 to August 15. 
A qualified paratrooper, Dhoni had  approached the Indian Army earlier seeking permission  to train with the Parachute regiment for two months.
Army Chief  General Bipin Rawat approved  his request and allowed him to  train with the Parachute regiment . " Just like Dhoni has been one of the greatest names of Indian cricket, his love for the armed forces is also well known. The idea that he would go and spend time with his regiment was in the pipeline for a while but it took backseat due to his cricketing  commitments," the news agency IANS said quoting army sources.  
Dhoni was accorded the honorary Lieutenant Colonel rank in the Territorial Army unit of the Parachute Regiment (106 Para TA Battalion) in 2011.
He completed his parachute training in 2015 and became a qualified paratrooper  after successfully finishing the mandatory five jumps from an Indian Army aircraft  at the Agra training camp.                                          
Just after the World Cup2019, there were speculations about his retirement from cricket. But, his fans argued that  he had got one more year to go at IPL and he should continue playing until then. 
Currently, the  38-year-old is with Chennai Super Kings and as per the agreement, his three-year contract will end only next year. 
However, he was excluded from the list of players going to West Indies for the upcoming series. The BCCI said Dhoni  had informed it of his unavailability for the West Indies tour. The series begins on August 3. India is scheduled to play three T20Is,three ODIs and two test matches against the Caribbean team.