Fahad Fazil is one of the favourite actors of Kamal Hassan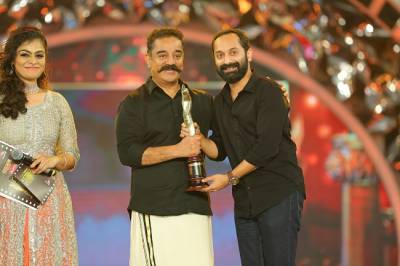 Legendary Indian actor and leader of the new political party  Makkal Neethi Mayyam Kamal Hassan has  revealed his favourite actors in Indian cinema, at a function marking his 65th birth day at his ancestral home at  Paramkuty in Tamil Nadu. 
The ace actor, who is known as Ulaka Nayakan (Universal hero ), said  while sharing his thoughts on politics and cinema   with the guests that one of his favourite actors is  Fahad Fazil, the young actor hailing from Kerala, who showed his acting prowess in many films which got great applause from filmgoers across India.
Fahad Fazil, son of renowned filmmaker Fazil, started his career at the age of 19 in his home production Kayi ethum doorath, which failed to get him any appreciation as an actor and also failed at theatres. 
After the failure of his first movie,   Fahad left for higher studies in the United States, and returned after five years in 2009 to act in the film Kerala Café, which was a box-office hit. The film was a great launching pad for him as an actor. After that there was no looking back for him as he presented high voltage performance in many films in lead as well as negative roles.
His role as Arjun in Chaappa Kurishu, Cyril C. Mathew in 22 Female Kottayam, Dr. Arun Kumar in Diamond Necklace, Shammi in Kumbalangi Nights, Prasad in Thondimuthalum Driksakshiyum were some of the characters which  he immortalised with his extraordinary acting talent . Trance, directed by Anwar Rasheed is the upcoming movie of Fahad Fazil. 
Apart from  Fahad Fazil, Kamal Hassan found Bollywood actors Nawazuddin Siddiqui and Shashank Arora as best actors.
 The  birth day event  has also witnessed some historic moments as Kamal Hassan unveiled his father Srinivasan's statue. Srinivasan was a well-known freedom fighter, who was in the forefront of the struggle in Tamil Nadu for Indian independence.
His family members including brother Charu Hassan, sister Nalini, and daughters Shruti and Akshara, all of them acclaimed  film artistes, were also present on this auspicious occassion.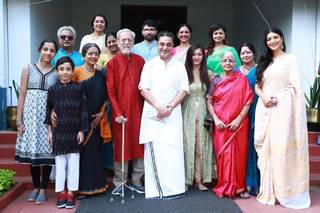 While talking to reporters, Kamal Hassan   has said his political entry was intentional and politics was not a hobby for him as he found there was a need to start a freedom fight against corruption and unemployment.
Unemployment is the key issue and Makkal Neethi Mayyam had started a new project of skill development programme to alleviate this crisis. Universities cannot   create jobs and efforts from the public should also come up to solve this problem, he suggested.