Jatayu Centre; world's largest bird sculpture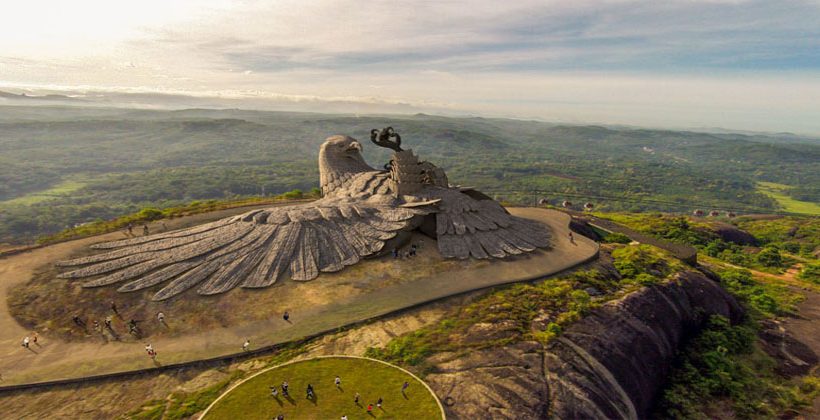 The Jatayu Centre at Chadayamangalam in the Kollam district of Kerala was visited by famous cartoonists Manoj Sinha (Hindustan times), Dr.Rohit Fore (Financial times), Manoj Chopra (Kahsmiri Times), Sandip Adwariyu (Times of India), Subhani (Deccan Chronicle).
The incredibly beautiful statue of bird Jatayu is the world's largest bird sculpture (200 feet long, 150 feet broad, 70 feet high and situated in 15,000 square feet of floor area. The visit was as per the special invitation by Center officials as part of making the center a cultural hub where artists could come and share their ideas. The cartons made by the artists during this visit would be exhibited in the center soon. There are also plans for publishing a Coffee table book which would contain these cartoons.
The first major BOT tourism in Kerala, India Jatayu Earths Center took ten years to be completed and it is the first combined effort by the tourism department and private equity holders to create a destination.
Spread over 65 acres of multi terrain landscape at Jatayupara near Chadayamangalam town in Kollam district of Kerala, the statue is situated 1000 feet above sea level. The scenic background of this statue includes various geographic features ranging from hills, valleys, rugged rocks and caves to cultivable lands. The destination is easily accessible, as it is just 500 meters away from the Main Central (MC) road and only 50 kms away from the nearest airport, Trivandrum. Jatayu is a mythical bird in the great Indian epic of Ramayana and is portrayed as a demi-god in the form of a vulture. According to Ramayana, Jatayu fought Ravan while Ravan was kidnapping Sita and Jatayu lost its wings in the fight. As per the tradition, Jatayu fell on this rock which is now known as Jatayupara.
The tourist flow to this spot has increased in the recent times with the installation of the statue and it is indeed a spot worth watching.