First batch of 88 ICU nurses from India reach UAE to combat COVID-19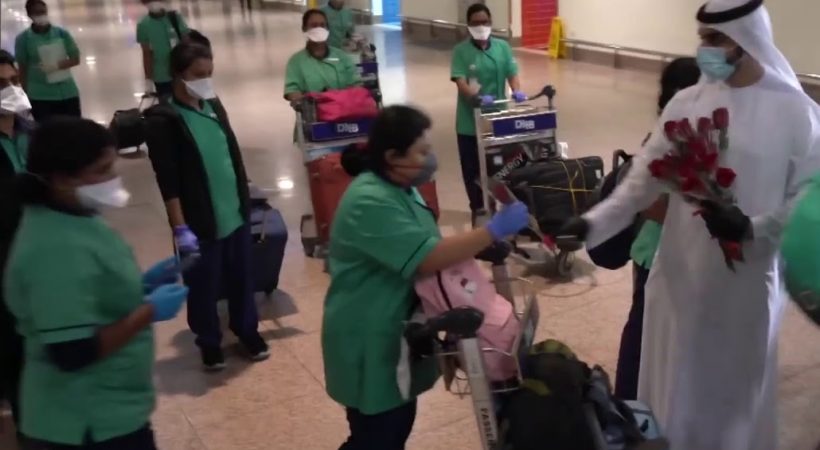 The first batch of 88 ICU nurses from India has reached Dubai to support the UAE's ongoing efforts to fight COVID-19. They were brought by Aster DM Healthcare with support from the Indian Consulate and UAE's Ministry of Foreign Affairs and International Cooperation.
Aster has selected 60 nurses trained in critical care, who were working at Aster's quaternary care hospitals in India who would be joining the UAE government's forces to manage the COVID-19 care facilities in Dubai. Reports ANI.
The UAE government along with Health Authority have set-up a 3000 bed field hospital in Dubai World Trade Centre to treat mild to moderate cases. This is a part of Dubai Government's proactive measure to build capacity to treat patients in case an upsurge of Covid-19 cases takes place. Report said.
Earlier, Indian government had given approval to requests from the United Arab Emirates and Kuwait to send Indian doctors and paramedics to help the two Gulf countries fight the Covid-19 pandemic.
Kuwait was the first one to seek Indian medical assistance earlier this month when Prime Minister Sheikh Sabah Al-Khaled Al-Hamad Al-Sabah called Prime Minister Narendra Modi. The Indian Air Force had then flown a 15-member military rapid response team.
Then, another request for Indian healthcare personnel had come in from the United Arab Emirates. There are also similar requests pending from Mauritius and Comoros, the archipelago off Africa's east coast Comoros that are battling the disease.