Health Minister Harsh Vardhan Assumes Charge As Chairman Of WHO Executive Board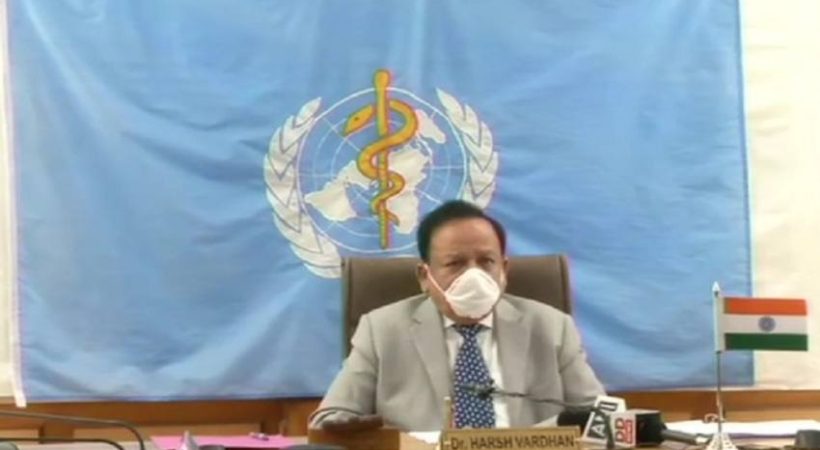 Union Health Minister Dr. Harsh Vardhan on Friday assumed charge as the chairman of WHO Executive Board, Officials said.
During the press briefing session, Dr. Vardhan said he realized the critical time whereupon he is assuming the position. "I am aware I am entering this office at a time of global crisis on account of this pandemic. At a time, when we all understand that there will be many health challenges in the next 2 decades. All these challenges demand a shared response," he said.
"India faced COVID19 in a proactive and pre-emptive way, with unmatched scale and determination. Today we have a mortality of 3% only. In a country of 1.35 billion, there are only 0.1 million cases of COVID-19." He added while expressing India's reaction to coronavirus pandemic.
"The recovery rate is above 40% and doubling rate is 13 days." He added.
As a chairperson of the 34-member Executive Board, Dr.Vardhan will work closely with WHO Director General Tedros Adhanom Ghebreyesus. It is also reported that being on the executive board for three years, India will also have a vote in the short listing of the next WHO director general when Tedros Adhanom's five-year-tenure ends in May 2021. The Board meets two times in a year – one in January and the other in May, immediately after the health assembly.
Earlier, addressing the 73rd World Health Assembly via video conferencing on Monday, Dr.Vardhan had said India took all the necessary steps well in time to combat the COVID-19 pandemic. According to him, India has done well in dealing with the disease and is confident of doing better in the months to come.