Home remedies for cough and cold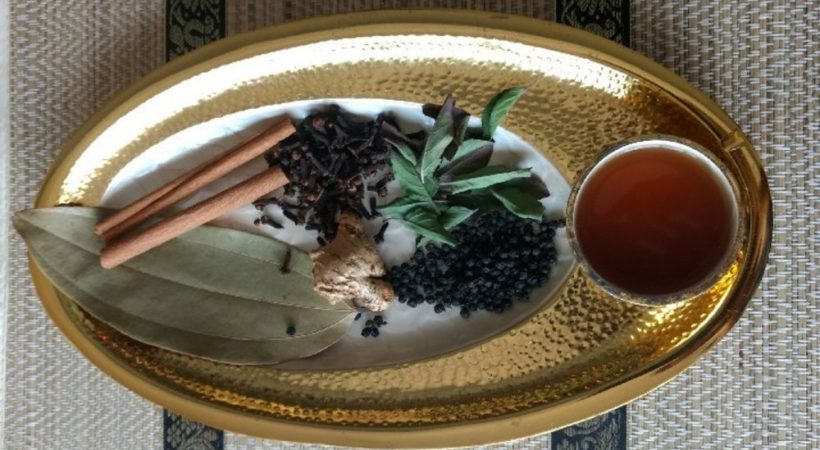 Cough and cold are very common diseases which can trouble anyone at anytime.
Usually the common causes for these diseases are believed to be dust, smoking, mist, weather change etc.and avoiding these may work as a tool to prevent these diseases. But ultimately, a systematic life that includes healthy food, sufficient sleep and exercises are required to avoid these. In ayurveda, cough, nasal congestion, fever, sneezing, cold, sore throat, headache etc. are generally categorized as the symptoms of 'Kapha' ailments and many home remedies are recorded in ayurveda manuscripts to hinder the reign of these ailments on us. Some of them are as below:
Consume plenty of water.
Take Vitamin C, Anti oxidants rich fruits like orange, lemon, pineapple, custard apple and other vegetables.
Fomentation and hot water bath will help to get rid of these ailments.
Avoid taking more caffeine and stop the consumption of alcohol. Instead drinking hot water, honey and juice is suggested.
Mint tea with honey will heal sore throat and cold.
Take a grinded mixture of lilac with honey two times a day and this will help heal these diseases in children.
To hinder allergic reactions wash your nose and mouth using rock salt and baking soda (Sodium bicarbonate).
Two tea spoons of Adathoda vasica and honey three times a day is a good medicine for the aforesaid diseases.
Cumin powder, dried ginger powder, arrowroot powder etc. mixed with ghee and mix of Galangal ashwagandha and honey can be used to heal cough.
Grind fresh ginger and Centella with root and use two times a day can reduce the effects of these diseases. Mixing two teaspoons of turmeric powder in goat milk and drinking it early in the morning in empty stomach will prevent allergic reaction.
Basil, Adathoda vasica, Liquorice, Kasthooradi tablet, gorochanadhi tablet, dashamoolarishtam, karpooradhi paste, thalisapathradhi paste, vyoshadhi vataka etc. could be the right medicinal choice for these ailments.
Garlic, ginger, pepper, cumin, turmeric etc.should be included in the diet.
If cough extends for more than a period of two weeks, it is suggested that the patient be treated by a health practitioner and not just depend on the aforesaid remedies.