'Indian Bolt' Sreenivasa Gowda rejects SAI track trial offer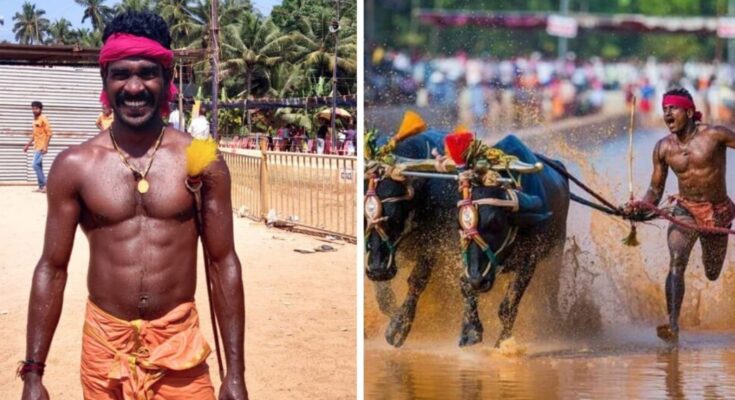 Karnataka's buffalo racer, Sreenivasa Gowda has rejected an offer to take part in a sprint trial by Central Sports Minister Kiren Rijiju and Sports Authority of India (SAI). The offer came immediately after a stunning performance by Gowda in a muddy paddy field racing two buffalos breaking the world sprint record set by world's fastest runner Usain Bolt.
Gowda reportedly broke the record of Bolt who completed 100 m in less than 10 seconds. According to reports Gowda expressed his regret in not participating in the track and field trial competition and opted to continue as a paddy field buffalo racer.
He told the media that he was happy with the responses that he received from the government and the public after his overwhelming performance, but he did not want to take part in the track and field trial competition arranged by SAI. Instead, he said, he would prefer to stick on to his current passion as a buffalo racer.
He said he used his heels more while running  in the muddy paddy field and expressed his apprehension for not replicating the same performance in the track trial   since it is the leg fingers are in use while running on the ground .
It was a shocking performance from his side in the paddy field of  Kambala, a coastal town  in Karnataka that made headlines after he broke the record of Usain Bolt,  covering 142 m in just 13.42 seconds, which is less than Bolt's achievement of 100 m in 9.58 seconds. Above all, he did it while racing frenzied buffalos in a mud-filled paddy field.
As soon as the news made headlines, Indian Sports Minister Kiren Rijiju suggested a 100 m trial run for him in front of Sports Authority of India officials and added that if he successfully replicated his performance he would be given modern professional training to make his performance match international standards. However, it appears Gowda   is less enthusiastic as he wishes to continue as a buffalo racer.