Indian Government's Massive repatriation mission 'Vande Bharat' begins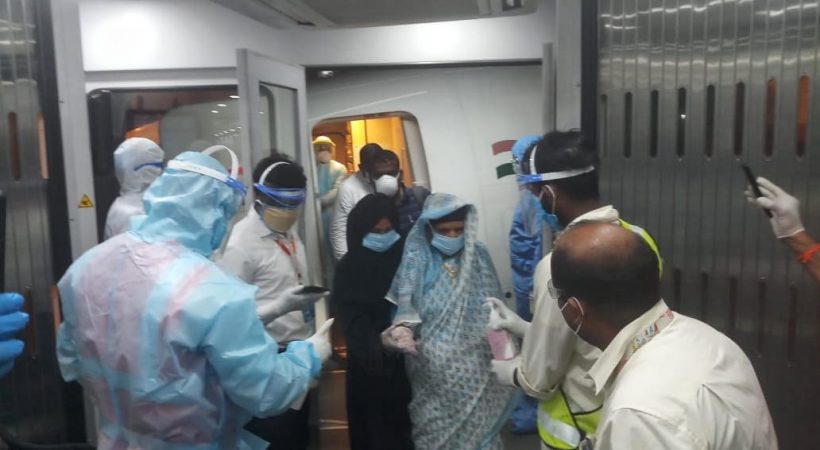 Photo Courtesy: Honorable Minister
Hardeep Singh Puri's twitter handle.
Indian government's massive evacuation of stranded Indians in different countries across the globe started on Thursday with two flights from the Gulf carrying 363 passengers landed at the Cochin and Calicut airports. Named as Vande Bharat Mission, the first flight carrying 177 adult passengers and four children from Abu Dhabi landed at the Cochin international airport at 10.08 p.m. The Air India Express flight was initially scheduled to land at 9.40 p.m. The passengers included 48 pregnant women. Whereas the second special flight carrying 182 expatriates, including five children, from Dubai reached Calicut at 10.35 p.m.
The flight was landed a specially prepared bay and passengers used the specially designated aerobridge for disembarking. All the passengers had undergone necessary examinations including temperature test and thermal screening. All the facilities which have been arranged were disinfected.
According to report pregnant women were given a choice either to use taxis arranged by the airport authorities or to use their own transport to proceed, said a communication from the airport authorities.
'The two flights carried a total of 363 passengers, including nine infants, an airline spokesman said in Kochi. Whereas another Air India flight from Bangladesh is scheduled to land in India today.
Nearly 15,000 Indians who stuck overseas due to coronavirus outbreak are assumed to come back via this mission in which special Air India flights carry them from 12 countries over a week, starting Thursday. The government will operate 64 flights until May 13 and use three Navy ships, as part of Phase the"Vande Bharat Mission".
Of the 64 flights, 15 would be to Kerala, 11 each to Delhi and Tamil Nadu, seven each to Maharashtra and Telangana, and the rest to Gujarat, Punjab, Jammu and Kashmir, Karnataka, and Uttar Pradesh.
Mission Vande Bharat begins.

First two flights bring home Indian citizens from the UAE.

177 passengers plus 4 infants reach Cochin from Abu Dhabi.
177 passengers plus 5 infants reach Kozhikode from Dubai.

State govt will now arrange for their mandatory 14 day quarantine. pic.twitter.com/sVteZkd2Tj

— Hardeep Singh Puri (@HardeepSPuri) May 7, 2020