Indian Made Toaster –sized Ventilator, A New Hope in the fight against Coronavirus: Media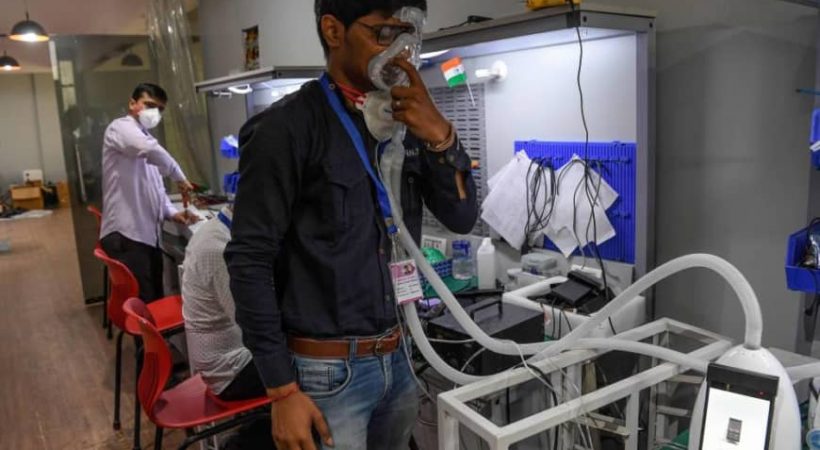 Many of the International news portals like The Japan times, Aljazeera America, Gulf times, Arab News, Star online etc. are all praises for Indian made Toaster – sized ventilator,  identifying and characterizing it as one of the hopes in the fight against the coronavirus pandemic. It is also reported that the demand for the ventilator is in boom.
Originally Created by neurosurgeon Deepak Agrawal and robot scientist Diwakar Vaish to fill in the shortage of the country, the ventilator has now become a panacea in the fight against coronovirus. With a low cost of only Rs: 2000 and with its user customizable feature, the sale of the ventilator has now been shot up from 500 a month to 20,000.
"In case you want to convert a hotel into an ICU, you can simply put this device and start working as it doesn't require other infrastructure," said Vaish.
The makers say the – ventilator weighs just 3.5 kilos (7.7 pounds) — will help move less critical patients back to their homes as their machine is easy to transport and install, and needs low power.
Ventilators play very important role in the treatment of advanced stages of Covid-19 as it helps give artificial breathing in the critical stage where in the patient faces breathing difficulty thus, toaster-sized ventilator has been in high demand in recent days. Consequently The AgVa plant near the capital New Delhi has been given permission to produce as many as possible at the earliest.
Car manufacturers like Maruti and Mahindra & Mahindra have also come forward to manufacture the medical equipment and it is reported that Maruti has tied up with AgVa to speed up the production in meeting the requirement.
Whereas, to boost preparedness for a surge in cases, the Indian government has now banned the export of coronavirus-linked medical exports, including ventilators.
It is also reported that India has only around 40,000 ventilators, and in view of the crisis in Europe, experts have warned that this could become disastrous shortage for India.