Indian Workers stranded at a refinery in Nigeria cry out for help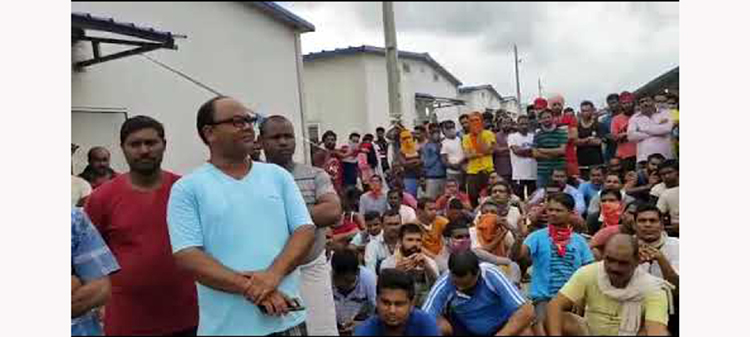 Indian workers who stranded at a refinery in  Lagos ,Nigeria sought help from Indian government. In a YouTube video created for seeking help, workers at Dangote Refinery and Petrochemical Company, GTA Power Mech Nigeria Limited, have cried out and accused their employer of forcing them to work without pay or protection amid the coronavirus pandemic.
The workers asked Prime Minister, Narendra Modi, and Minister of Home Affairs, Amit Shah, to take "necessary steps"  in order to make them safe.
Claiming to be employed by GTA Power Mech Nigeria Ltd., a joint venture between Power Mech Projects Limited and Skipper T&D undertaking projects in Africa an unidentified man, who spoke in Hindi on behalf of the group, said, "We, the citizens of India, are speaking from Dangote Refinery, which is situated almost 60km away from Lagos in Nigeria. We are workers of the Dangote Refinery. The whole world is suffering from coronavirus, which is a global pandemic."
" Nigeria has also announced its lockdown. During this lockdown, the workers of Power Mech Company are being forced to work. The staff here are forcing us to work through physical violence. request our Home Minister, Mr Amit Shah, and Prime Minister, Mr Narendra Modi, to kindly understand our problems and help us get out of this situation by taking necessary steps to protect and save our lives." He added.
According to them, as many other Nigerian companies are being safeguarding their employees abiding the norms of social distancing and stay-at-home orders Power Mech Company have not provided any security for them.
"The people here are forcing us to work by taking us out of our rooms and pushing us into the bus in order to make us work. The company responsible for this is the Power Mech Company. We, the people working in the Power Mech Company, have not been paid. The workers have not received any payment since three months and there is no food arrangement made for us. The food which is given is worse (than) those of animals.In this situation of the pandemic, they are not saving us from the disease but are trying to kill us of this disease and are pushing us into it so that we die," they said.
Meanwhile a local media's attempt to contact the GTA Power Mech has wasted as the company did not respond to their phone calls, a text message and an email. At the same time, another media reports that when contacted, Dangote Group's Chief Corporate Communications Officer, Mr Anthony Chiejina, said that the video was over two months old.