Jnanpith Award for Akkitham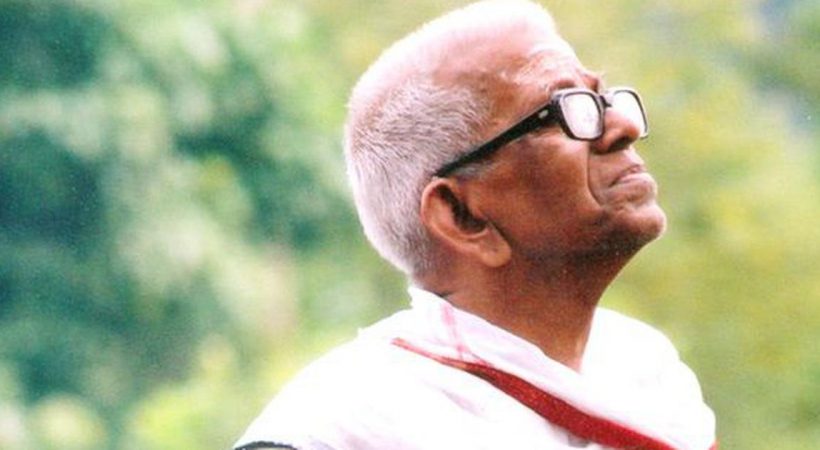 The Jnanpith Award came to Akkitham Mana last Friday as no surprise. It was expected anytime, as nonagenarian Akkitham Achuthan Namboothri  has been one of the most deserving Indian literary personalities to receive such a prestigious honour. Akkitham is the sixth writer in Malayalam, a  language that has been spoken by just 3.6 crore among 1.3 billion people in India. Hence it is a great honour and achievement for the Malayalam literature too.
Before Akkitham, G  Sankarakurup, Thakazhi Sivasankara Pillai, S K Pottekad , M T Vasudevan Nair and ONV Kurup were honoured with Njanpith Award.
Akkitham will be receiving the 55th award  since it was instituted in 1965.
Known as philosopher poet, Akkitham started writing poems at the age of  eight. He is a scholar in Sanskrit, Vedas and Bhagavat Geetha. His deep-rooted  learning and support from parents and other family members helped him to see the world in the  right perspective.
He lived his younger days at a time when the struggle for Independence  led by Mahatma Gandhi was literally picking up momentum across India. Naturally, he also became part of  it. He followed Gandhian ideals, living a very simple and honest life like his master, until today.
Akkitham's Irupatham Noottandinte Ithihasam  (Epic  of 20th Century) is considered his masterpiece.  Though written decades ago, the book is still earnestly discussed at literary  meetings. 
It truly depicts the life of an ordinary person, for that matter, a human being  anywhere in the world, who struggles to earn a decent living. 
The poet's  observation of life's ups and  downs, the changes brought by the  fall of fortunes in life around and the fall of empires and its  global impact, is still being discussed and appreciated.
Akkitham,  through his poems  advocates for love towards  everybody and everything in nature and  Mother Nature Herself.
The poet once said:   "Happiness is merely a process  of erasing sadness. There is only one remedy for pain and sadness—and that remedy is love."
The nation honoured  the great poet in 2017 with the prestigious Padma Shri Award. He is the recipient of all known  literary awards in Malayalam instituted by different organizations.
He was also honoured by   Kerala Sahitya Academy and the Kendra Sahitya Academy.
The Jnanpith Award comes with a a cash prize of Rs11 lakh and a bronze replica of Goddess Saraswati.