Korean film Parasite bags  Best Picture award at the 92th annual Academy Awards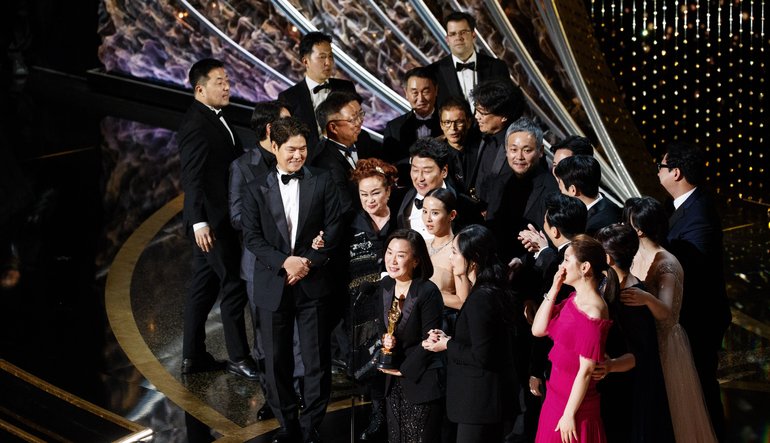 Korean film Parasite  won Best Picture tonight at the 92th annual Academy Awards, and Joaquin Phoenix Best actor for 'Joker', his first Oscar win in four noms.
The other acting awards went, with Renee Zellweger winning best actress for 'Judy' and Laura Dern and Brad Pitt holding on  Supporting Actress and Actor  for their respective roles in 'Marriage story' and for 'Once Upon a Time in Hollywood'.
South Korean film "Parasite" directed by Bong Joon-ho won best picture at the 92nd Academy Awards ceremony in Los Angeles, becoming the first ever non-English-language film to capture  the top honor. "Parasite," which was one of only 10 foreign-language films in Oscar history nominated for best picture, also won best international feature film, original screenplay and director for filmmaker Bong Joon ho.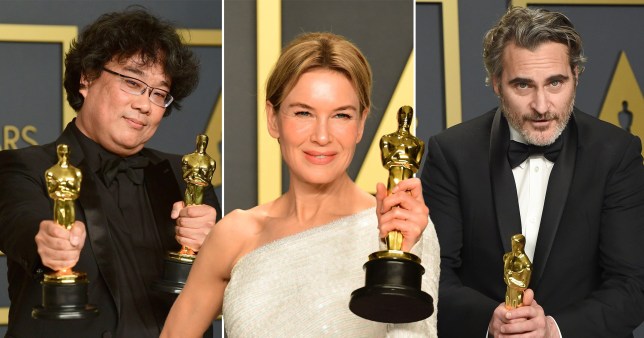 The complete list of winners and nominees is below:
Best Picture
'Parasite'
Leading Actress
Renee Zellweger for 'Judy'
Leading Actor
Joaquin Phoenix for 'Joker'
Best Director
Bong Joon Ho for 'Parasite'
Supporting Actor
Brad Pitt for 'Once Upon a Time in Hollywood'
Supporting Actress
Laura Dern for 'Marriage Story'
Best Original Song
Elton John for 'I'm Gonna Love Me Again', 'Rocketman'
Original Score
Hildur Gudnadottir for 'Joker'
Best Original Screenplay
Bong Joon Ho and Han Jin Won for 'Parasite'
Best Adapted Screenplay
Taika Waititi for 'Jojo Rabbit'
Best International Feature Film Award
'Parasite'
Animated Feature Film
Josh Cooley, Mark Nielsen and Jonas Rivera for 'Toy Story 4'
Animated Short Film
Matthew A Cherry and Karen Rupert Toliver 'Hair Love'
Live Action Short Film
Marshall Curry for 'The Neighbors' Window'
Achievements in Production Design
Barbara Ling and Nancy Haigh for 'Once Upon a Time in Hollywood'
Costume Design
Jacqueline Durran for 'Little Women'
Documentary Feature
Stven Bogna, Julia Reichert and Jeff Reichert for 'American Factory'
Documentary Short
Carol Dysinger for 'Learning to Skateboard in a Warzone'
Sound Editing
Don Sylvester for 'Ford v Ferrari'
Sound Mixing
'1917'
Achievements in Cinematography
Roger Deakins for '1917'
Achievements in Film Editing
Michael McCusker and Andrew Buckland for 'Ford v Ferrari'
Achievements in Visual Effects
Guillaume Rocheron, Greg Butler and Dominic Tuohy for '1917'
Achievements in Make-up and Hairstyling
Kazu Hiro, Anne Morgan and Vivian Baker for 'Bombshell'
In his acceptance speech, Joaquin Phoenix had quoted his later brother and stated, "I'm full of so much gratitude now. I do not feel elevated above any of my fellow nominees or anyone in this room, because we share the same love – that's the love of film. And this form of expression has given me the most extraordinary life. I don't know where I'd be without it. But I think the greatest gift that it's given me, and many people in [this industry] is the opportunity to use our voice for the voiceless. I've been thinking about some of the distressing issues that we've been facing collectively. I think at times we feel or are made to feel that we champion different causes. But for me, I see commonality. I think, whether we're talking about gender inequality or racism or queer rights or indigenous rights or animal rights, we're talking about the fight against injustice. We're talking about the fight against the belief that one nation, one people, one race, one gender, one species, has the right to dominate, use and control another with impunity."