KumbhMela, the largest religious festival of the world, begins with strong flavors of spirituality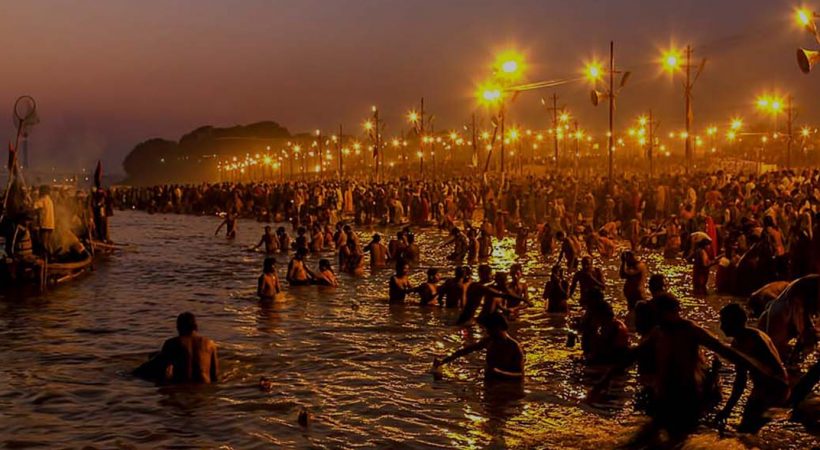 Marking the beginning of KumbhMela, the largest religious festival of the world, Millions of pilgrims took the holy dip in the confluence of the Ganges, the Yamuna and the mythical river of Saraswati at Prayagaraj (earlier known as Prayagaraj) in the northern state of Uttar Pradesh in India.
It is estimated that almost 150 million people including almost a million foreigners would attend the eight-week festival. According to the organizing committee of the festival, The KumbhMelaAdhikari, on Monday alone, almost 18 million pilgrims under the guidance of naked ascetics smeared with ash, have entered the festival ground. Though there are no details on how the committee calculated the estimate, the committee expects that the present Kumbh will witness a larger audience than the previous one.
It is believed that taking the holy dip in the waters of Ganges has the power to absolve the sins and that taking the dip during the KumbhMela is even more auspicious as it believed to bring salvation from the cycle of life and death. Another specialty of the KumbhMela is the presence of the Naga sadhus (Ascetics who worship Shiva, either belonging to monastic orders called  Akharas or leading a life of seclusion in remote caves) who usually step out only for the KumbhMela, which is held only once in three years.
With a large crowd of spectators around, the first set of sadhus took the holy dip in the holy ambience flavored with prayers to 'Mahadeva'; (Lord Shiva). Though there are prejudices against the LGBT community even after the legalization of gay sex in September, This KumbhMela witnessed the procession by KinnarAkhara(a transgender ashram) led by rights activist Lakshmi Narayan Tripathi from Mumbai.The procession which was escorted by police, ended with Tripati plunging into the Holy waters, fully clothed.
According to the tradition, the Kumbhmela is the commemoration of the 12 day wrestle of Lord Vishnu with a golden pot containing the containing the nectar of immortality from demons. During the fight, four drops fell to on earth in the Kumbh cities of Prayagraj, Haridwar, Ujjain and Nasik which now share the Kumbh.
The present KumbhMela is in fact an ArdhKumbhMela (or half KumbhMela) and  very significant  in the history of Hinduism. KumbhMela, which is held only once in three years and Haridwar (river Ganga), Prayag (Triveni sangam of Yamuna, Ganga and Saraswati), Ujjain (river Kshipra), and Nasik (river Godavari) are the Kumbh Mela Destinations which are said to be eternally blessed during this time.Enthusiastic Travelers and ardent tourists  who want to explore the Cultural Heritage of India is part of this enormous gathering called Kumbh.