Magnificent Mamallapuram is ready to receive Modi and Xi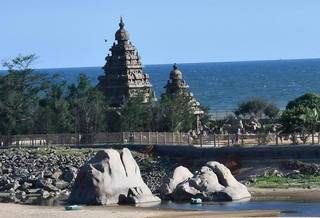 Mamallapuram in Tamil Nadu, world famous for its centuries old magnificent rock-cut monuments and tourist attraction is ready for the historic India-China second informal summit scheduled for October 11-13. Prime Minister Narendra Modi will hold talks on bilateral issues with Chinese President Xi Jinping at this ancient coastal city on the East-Coast Road, 50 kilometres away from Chennai.
Formerly Mahabalipuram, built by Pallava rulers in the 7th Century, Mamallapuram houses unparalleled works of art in hard stones. The rock-cut temples, chariots, caves, mammoth sculptures of elephants carved out of huge rocks, open air bas-reliefs will make one wonderstruck.
European travellers called this group of architectural wonder in rock, " Seven Pagodas." The shore temple here has been recognised by Unesco as a world heritage site for its breathtaking beauty of work in stone.
Mamallapuram, one of the oldest cities in India, has a glorious past. It was once a bustling seaport and trade centre.
The well preserved marvelous stone monuments here tell tales of the glorious period under the Pallava rulers, whose love and patronage of art, artists and master craftsmen who gave life to their dreams of a prosperous Mamallapuram of culture, art and tradition.