Married at the age of 12, Tortured by Husband; Now one of the billionaires in the country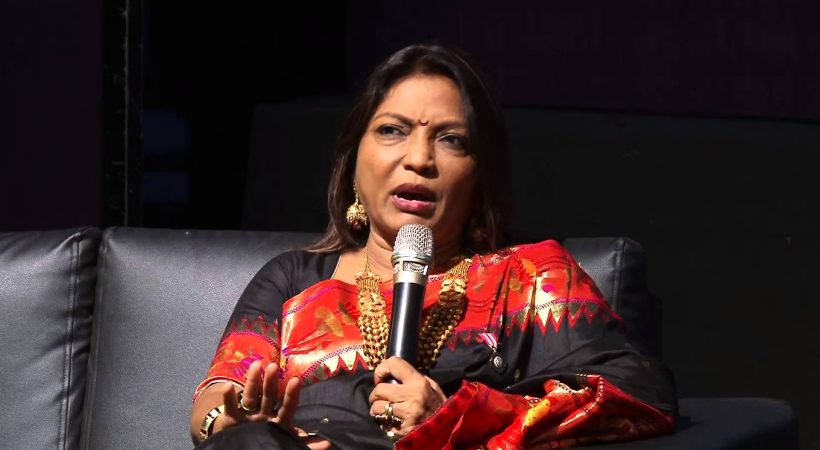 A girl who married at the age of 12 and faced cruel torture at her husband's house unbelievably becomes one of the top billionaires in the country and the nation bestows her one of the most admirable prizes for her contribution to humanity. If you think it is a movie script then you are wrong. It happened in Mumbai, India and the protagonist of this real life story is Kalpana Saroj.
Humans of Bombay, a face book page in which she wrote her agonizing but inspiring life story featured Kalpana's life  in a firmly good manner.
Hailed from a Dalit family (Oppressed and discriminated Race in India) she had to face many struggles throughout her life. However, she survived all these difficulties with her unbelievable will power and became a successful entrepreneur as well as an inspiring human being. Now she has personal assets worth $112 million.
Full text of Face book Post:
"I was born in a Dalit family, in a village in Akola. When I was 12, everyone pushed my dad to get me married to a man, 10 years my senior, who lived in Mumbai. My dad didn't want to, but because of societal pressure, I was married off.
I came here and learned that his family lived in one room in a slum and he didn't even have a job. I was treated horribly – if there was extra salt in the food I cooked or any mistakes I made, I was beaten up by my in-laws… It was my personal hell.
After 6 months, my father visited me – he couldn't even recognize me. I was in ragged clothes and I'd lost my smile. He fought with my in-laws and took me home. Telling me to forget about it like a bad dream.
But people started blaming me. I even tried to commit suicide – and they still said that I was giving up because I had done something wrong, not the other way around. It was then that I realised that if I was going to be blamed in any case, I'd rather live.
With this new leaf turned, I returned to Mumbai and worked as a tailor. That was the first time I saw what Rs. 100 looked like. I rented a room in Kalyan with my savings and called my family there. We were managing fine – but when we couldn't afford to save my sister's life, I realised that I needed to make more money for my family. So I took a government loan and started my own furniture business. It was doing well and we began living a better life.
But there were so many people out there struggling, just like I had been. So I started an NGO to help them get loans. Sometimes, I helped them out of my own pocket and slowly built a good reputation for my social work.
Which is why the workers of Kamani Tubes asked me to help save their company. It was tied up in 140 litigation cases, with a debt of 116 crores. Everyone told me that it was suicide – but 500+ families were starving! So I chose to help, wanting nothing but justice for them in return. I spoke to the finance minister and he got the debt reduced. I gathered a team and shifted factories. Everything I tried was new – but there was no fear left in me.
In 2006, I became the chairman. We were told to pay off the bank loans within 7 years. We did it within 1 and we even managed to pay the workers. Slowly and surely, things changed and today, the turnover is more than we could dream of, I was even awarded the Padma Shri in 2013 for my work. I've had an unbelievable journey, from a Dalit Child-Bride to an owner of a multi-million dollar company. It's been tough – but I've made sure to never let the fear of challenges overpower me. It took me a long time to learn that, but, now that I have, I can't choose to face life without having full faith in myself."