Mohan Lal's 'Barroz' has international cast and locations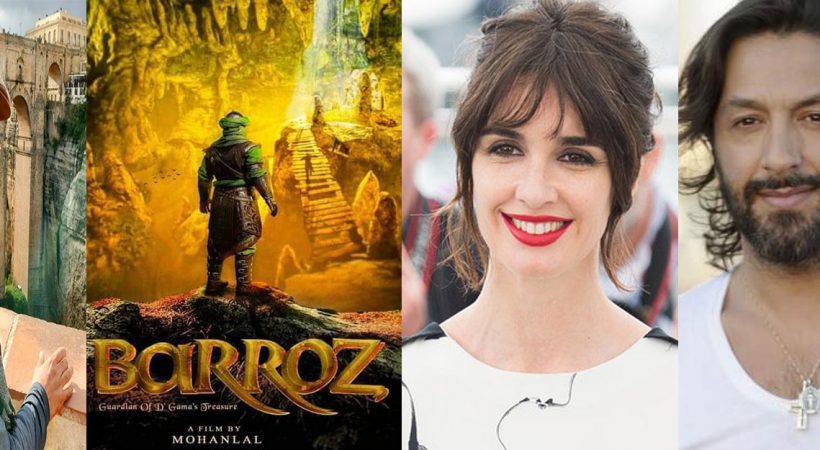 Superstar Mohan Lal's maiden directorial venture Barroz, based on the story of  Vasco Da Gama, the great Portuguese explorer and Barroz, the custodian of his valueless treasure for 400 years, is fast shaping up, to be ready  for October launch. According to Lal, the main cast of the totally fantasy movie has been decided and that included some of the most famous international film personalities for the key roles. Most of the technicians are also drawn from Hollywood. Spanish and Hollywood actress Paz Vega and the ace Spanish actor Rafael Amargo will act in the roles of Vasco Da Gama and his wife. Vega is famous for her stunning performances in the Hollwood blockbusters, Rambo, Last Blood, Sex and Lucia, Spanglish (2004), 10 Items or Less (2006) and All Roads Lead to Rome(2015) apart from her Spanish hits. On the other hand, Amargo is  a very popular Spanish actor and leading choreographer.
"Barroz is set against the backdrop of the maritime history of Portugal, Spain, Africa and India. It is, indeed, about the shared heritage that we inherited from our ancestors," Mohan  Lal said in a promotional  Facebook video on Monday to introduce his debut movie.
The story of the film is based on the book  Barroz, Guardian of 'Gama's Treasure by famed filmmaker and writer Jijo Punnoose. The story is woven around Barroz, who was guarding   Gama's priceless treasure for over 400 years and his efforts to find out the true successor to inherit it.  Apart from direction, Lal also acts in the title role of Barroz in the film. The 13-year-old prodigy Lydian is also in the film.
It is produced by Antony Perumpavur. P U Mohan will handle the camera for this 3-D  thriller. The film will be shot mainly in Goa, Portugal, Spain and some very exotic places  in India and abroad.  
One of the most successful actors, Mohan Lal has been in the Indian film industry for 41 years and acted in 340 films in different languages. His son Pranav Mohan Lal is also an actor..