Music from the heart
It is not widely used measure to use music as a tool in helping a sick person to recover from the ailments. But, the experience of Muthu chittanda, a blind flute artist, who plays flute along with his fellow blind friends in the Heart to Heart brand for a concert for the patients in Aster Medicity Hospital Ernakulum, confirms the fact that music can help relax and console the diseased and their kin even in the saddest situation.
It was Hotel Le Méridien mangment ,Kochi who paved the way for Muthu and team in to lime light. After performing in front of their guest the team made their appearance in famous multi speciality hospital Aster Medicity Kochi. Hospital management rolled out red carpet for Muthu and team as soon as they watched them performing at Le meridien. Thereafter Heart to Heart band has been performing simultaneously for both Le meridien and Aster Medicity in Kochi . Moreover, art festival organizers across the state are in competition to book the band's program.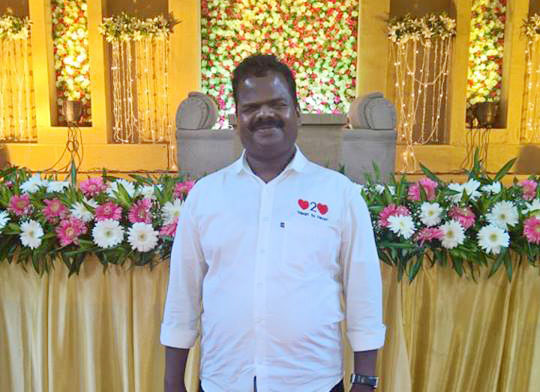 Muthu chittanda started learning music at the age of five when he joined School for the blind Kunnamkulam. It was there that he first met his music teacher Mr. Sasi. Sasi was the first one to notice the talent in Muthu chittanda and his father also suggested the teacher that if he could encourage Muthu, it would indeed be a great blessing for him. Sasi fulfilled the wish of Muthu's father and he taught Muthu the basics of music. Since then, Muthu found solace in music and he became confident about facing the world with his inability to see. Later, he joined the Chembai Memorial Government Music College Palakkad for his bachelors in Vocals and gradually specialized in flute as he was very fond of the instrument.
Now when he plays music along with his friends in a hospital like Aster Medicity, the band is able to provide solace for those who are critically ill and their family members who are stressed out.Most often he finds the patients and their kin weeping in their sad situation and he also finds that his music is often capable of putting a smile on the faces of these people. This, for him, is the greatest satisfaction and is the best thing that he has ever experienced in his life. Muthu chittanda now remembers his father with lot of love and gratitude for encouraging his talent and for supporting his teacher in helping muthu to pursue a career in music.
He also has a group of other blind men in his band, Mr. Benny Ernakulam in Guitar and Jayamon Alappuzha in Tabala. He also remembers the Le Méridien Kochi and Aster medicity management who devised this musical event in their respective venues.
H2H puthu vellai mazhai

Muthu Chittanda ಅವರಿಂದ ಈ ದಿನದಂದು ಪೋಸ್ಟ್ ಮಾಡಲಾಗಿದೆ ಸೋಮವಾರ, ಜನವರಿ 13, 2020