Nirmala Sitharaman Announces Major Reforms For Coal, Minerals And Defence Sectors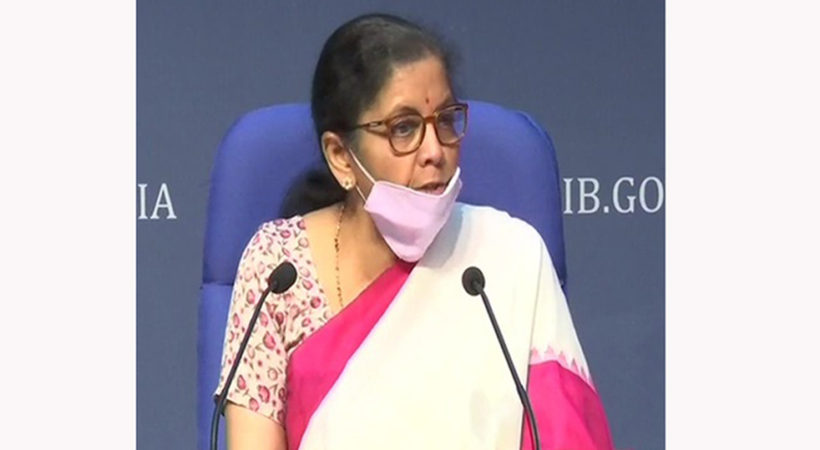 After announcing special financial packages for agriculture, fisheries and allied activities,MSMEs, NBFCs, real estate sector,MFIs, migrant workers, street vendors and small farmers etc., the fourth tranche of the Rs.20 lakh crore 'Atmanirbhar Bharat Abhiyan' package announced by finance minister Nirmala Sitharaman has a focus on structural reforms.
This includes liberalization of defense production, coal mining and minerals production and assures cheaper air travel.
In a crucial move the finance minister has allowed the private sector to use ISRO facilities and other relevant assets.
Highlights:
-The last tranche of the economic package will be released tomorrow at 11 am: Sitharaman
-Atomic energy reforms: Research reactor in PPP mode, Startup ecosystem to be linked with nuclear sector
-Future projects for planetary exploration, outer space travel to be open for private sector: FM
-Private sector will be allowed to use ISRO facilities to improve their capabilities: FM
-Private sector is being given access to the space sector: Sitharaman
-Boosting private participation in space activities. The govt will provide a level-playing field for private companies in satellites, launches and space-based services: FM
-Govt will enhance the quantum of viability gap funding upto 30% each of total project cost viability gap funding be centre, states and statutory bodies. Total outlay of the scheme is Rs.8100 crore: FM
-India needs to ramp up social infrastructure.
-Power tariff policy reforms to include consumer rights, promote industry and ensure sustainability of the sector.
-Power distribution companies in union territories will be privatised: FM
-Maintenance cost of airlines will come down. The travellers will probably pay less, as a result: FM
-India to become a global hub for aircraft maintenance, repair and overhaul (MRO). Tax regime for MRO has been rationalised: FM
-Additional investment likely to happen in 12 airports: FM
-6 more airports are for auction. AAI will do on PPP basis: FM
-Aviation industry will benefit by Rs.1,000 crore with efficient airspace management: Sitharaman
-Restrictions on utilisation of the Indian air space will be eased so that civilian flying becomes more efficient. Only 60% of Indian airspace freely available: FM
-India has 3rd largest valued coal mines, but still we import it. Regulation is required when there is shortage. We have been suffocating the sector by regulating it, and preventing it from producing what is required by industry: FM
-FDI limits in defence manufacturing to be increased from 49% to 74%: FM
-We hope that the ordnance factory boards can be listed in stock exchanges: Sitharaman
-Ordnance Factory Board will be corporatized but not privatised: FM
-Defence can make sure that their import bill can come down: FM
-The government will ban import of a list of certain weapons
-Make in India for self-reliance in defence production.
-Govt will introduce joint auction of bauxite and coal mineral blocks to enhance aluminium industry's competitiveness: FM
-Rationalisation for stamp duty payable at the time of award of mining leases
-Distinction between captive and non-captive mines will be removed: FM
-Introduction of a seamless exploration-cum-mining-cum-production regime.
-500 mining blocks would be offered through an open and transparent process: FM
-Private investments will be enhanced in the mineral sector
-Govt will introduce competition, transparency and private sector participation in coal sector through a revenue sharing mechanism and liberalisation of entry norms: FM
-Any part can now bid for a coal block and sell in the open market: FM
-Coal will no more the monopoly of the government: FM
-Govt will bring in commercial mining in coal sector: FM
-Reforms in coal, minerals, defence production, airports and civil aviation, power distribution in UTs, space, atomic energy.
-Industrial infrastructure will be upgraded: Sitharaman
-Policy reforms to fast-track investment. The govt will fast-track investment clearance through a empowered group of secretaries: FM
-Today's announcements to focus on structural reforms: FM
-No cronyism has developed through banks: FM