No more handshakes only Namaste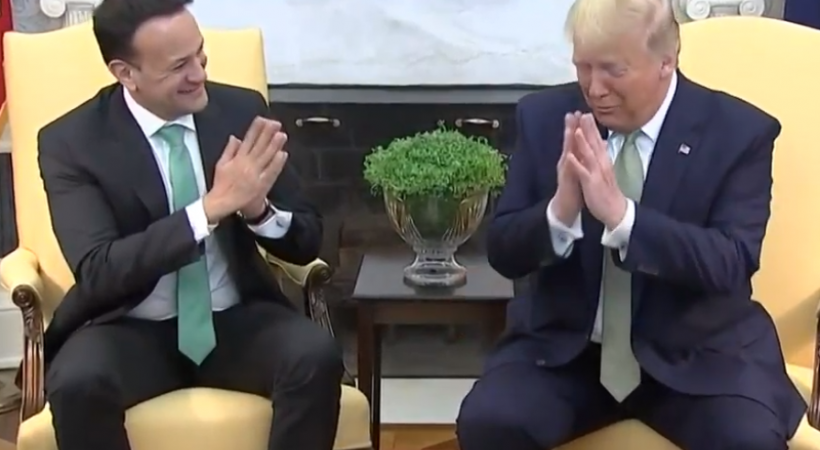 Washington/London: Amid the growing corona virus scare, world leaders are no more interested in greeting each other with the handshake and have adopted the Namaste style to greet all. Greeting using handshake is a no these days and the namesthe-way of greeting is getting very popular. This is due to the fact that the handshake greeting can result in the spreading of the corona virus. Thus, most world leaders have now adopted this traditional Indian greeting style, the Namaste.
It was seen that the American President and Irish Prime Minister, Leo Varadkar greeted each other in the Namaste style instead of the handshake and a hug when they met at the White House recently. The two declared that this form of greeting is healthy at this time considering the current health situation of the world due to the spread of the corona virus. Their picture holding their palms together in the Namaste style soon got viral on social media.
At the same time, it was seen that Britain's Prince Charles too was seen greeting his guests in the Namaste style. This act by the Prince became very popular. He was seen to do this while participating at the Princess Trust Award function held at the London Palledium last Wednesday. The video showing the British Prince greeting his guests in this manner was tweeted by IFS official, Parveen Kaswan.
In the video, the Prince was seen to remind himself each time while greeting friends and guests in the Namaste style. Also, through the function, the Prince is seen to be greeting all with his folded palms rather than the usual handshake. All this has been captured in the video.
After the Corona virus scare worldwide and to contain its spread, Israel Prime Minister, Benjamin Netanyahu too has advised his people to adopt the Indian form of greeting people and to quit the handshake greeting for health reasons.