OCI card holders not required to carry old passports for India travel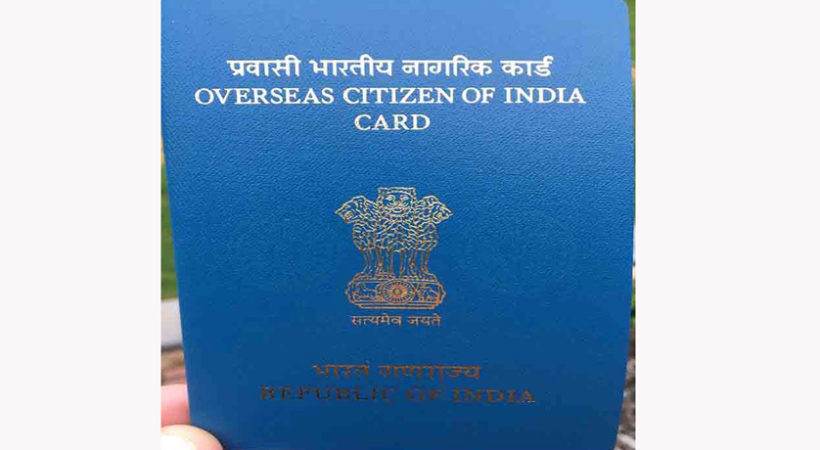 People of Indian origin and the Indian diaspora having Overseas Citizens of India (OCI) cards are now not required to carry their old, expired passports for travel to India, as required earlier, according to a government notification that has been welcomed by members of the community, a PTI report said.
The Overseas Citizens of India or OCI card is issued to people of Indian origin globally which gives them almost all the privileges of an Indian national except for the right to vote, government service and buying agricultural land. The OCI card gives them a visa free travel to India, the report said.
In a March 26 press release, the Indian missions in the US said that in order to ease the travel of OCI card holders, it has been decided that the "time line for re-issuance of OCI cards in r/o OCI card holders, who may be required to get their OCI card reissued has been extended until 31 December, 2021."
Further "requirement of carrying old and new passports along with the OCI card has been done away. Henceforth, the OCI card holders travelling on the strength of their existing OCI card bearing old passport number are not required to carry their old passport. However, carrying a new passport is mandatory."
New York-based social activist Prem Bhandari, who has been taking up the cause of OCI card holders for the past several years, welcomed the announcement. He expressed gratitude to the Ministry of Home Affairs, Ministry of External Affairs and the Government of India for not only extending the renewal up to December 31 this year but also for relaxing the guidelines and not requiring OCI card holders to carry their old, expired foreign passports.
"The OCI card holders can heave a sigh of relief worldwide," with these new guidelines, he said. He expressed thanks to Home Secretary Ajay Kumar Bhalla for the new guidelines, PTI report said.
The OCI card, among other benefits, allows multiple entry, multi-purpose life long visa to an Indian-origin foreign national to visit India. Under the provisions of the OCI card, which gives the cardholder lifelong visa to India, those below 20 years and above 50 years need to renew their OCI card every time they have their passport renewed.
The Indian government has relaxed the provisions since last year due to the coronavirus pandemic. The timeline has been extended multiple times so far.
However, this is for the first time that the guidelines have been relaxed for carrying old passports and the new passports along with the OCI cards for overseas Indians, the PTI report said.
In May last year, the central government had allowed certain categories of OCI card holders, who were stranded abroad, to come to the country. Earlier, according to the regulations issued by the Indian government, visas of foreign nationals and OCI cards were suspended as part of the new international travel restrictions following the Covid-19 pandemic.
OCI cardholders were asked to carry their old passport with them to fly to India. Now, under the new provisions, OCI cardholders are not required to carry their old passports but will still need to carry their new passport.
Earlier this month, the government of India Home Ministry had issued a new notification urging the Overseas Citizen of India (OCI) card holders to follow certain rules while visiting India.
According to PTI, these rules were part of the 'brochure' published in 2019 and were recently consolidated and notified.
Here are the notification details which affect OCI card holders:
As per the notification, All Overseas Citizen of India (OCI) cardholders are required to take a special permission from the central government if they want to be involved in any missionary, 'Tabligh' or journalistic activities in the country, or to visit any place which falls within the Protected or Restricted or prohibited areas as notified by the Central Government.
This include:
(i) Whole of Arunachal Pradesh
(ii) Parts of Himachal Pradesh
(iii) Parts of Jammu & Kashmir
(iv) Whole of Manipur
(v) Whole of Mizoram
(vi) Whole of Nagaland
(vii) Parts of Rajasthan
(viii) Whole of Sikkim (partly in Protected Area and partly in Restricted Area)
(ix) Parts of Uttarakhand
Under the Foreigners (Restricted Areas) Order, 1963, the following areas have been declared as `Restricted' Areas – Andaman & Nicobar Islands – Entire Union Territory and Sikkim – Part of the State.
The Ministry of Home Affairs (MHA) said, "The OCI cardholder shall be required to obtain a special permission or a Special Permit, as the case may be, from the competent authority or the Foreigners Regional Registration Officer or the Indian Mission concerned."
The special permit would be required to undertake several activities, including any missionary or 'Tabligh' or mountaineering or journalistic activities, any foreign Diplomatic Missions or foreign Government organisations in India.
The ministry also said that there is an exemption from registration with the Foreigners Regional Registration Officer (FRRO) or Foreigners Registration Officer for any length of stay in India provided that the OCI cardholders who are normally residents of India shall intimate the jurisdictional FRRO by email whenever there is a change in permanent residential address and in their occupation.
OCI holders at par with NRIs?
According to PTI, another major change the new notification is going to bring in is by making OCI cardholders par with Non-Resident Indians in the matter of inter-country adoption of Indian children subject to the compliance of the procedure as laid down by the competent authority for such adoption.
They will also be considered at par with NRIs for appearing in the all India entrance tests such as National Eligibility cum Entrance Test (NEET), Joint Entrance Examination (JEE) (Mains), JEE (Advanced) or such other tests to make them eligible for admission only against any Non-Resident Indian seat or any supernumerary seat; and purchase or sale of immovable properties other than agricultural land or farm house agricultural land or farm house or plantation property.
The ministry further said that the OCI cardholders can pursue the professions in India as per the provisions contained in the applicable relevant statutes or Acts as the case maybe, which includes doctors, dentists, nurses and pharmacists, advocates, architects, chartered accountants.
Entry fee to be charged for several things
However, for OCI cardholders, entry fees to be charged for visiting national parks, wildlife sanctuaries, national monuments, historical sites and museums in India and tariffs in airfares in domestic sectors in the country shall be at par with the Indian nationals.
The new notification has been met with some criticism by the opposition.
The new notification humiliates and illegally classifies OCIs as "foreign nationals" and introduces a series of new restrictions that dramatically curtails the rights and liberties of OCIs of India, the Goa Congress said.
"Goan OCIs, especially those with Portuguese passports, will not be able to participate in religious activities such as organizing feasts and donating to temples, churches, mosques and gurudwaras in Goa," Goa Pradesh Congress Committee (GPCC) president Girish Chodankar said.
"Goans children residing abroad wishing to study in IITs, IIMs, AIIMS will not be able to do so anymore, claimed Girish Chodankar… This bill does not just deny people of Indian origin living abroad their lifelong wish of dual citizenship, it severs the legal and emotional link they have to their motherland," he told PTI.