Omicron Scare: Three travelers from U.K, Spain and France tested positive on arrival in India; Mumbai and Bengaluru introduce new testing and quarantine mechanisms for international travelers; Omicron patient missing in Karnataka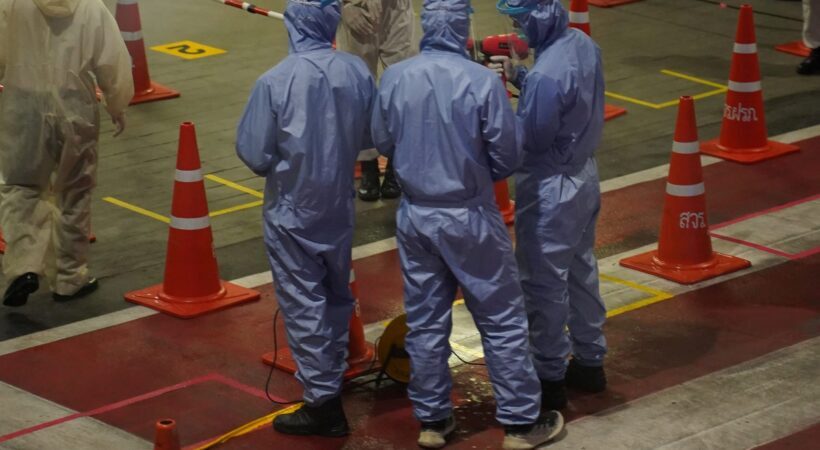 Two passengers who reached from Singapore and the U.K have been tested positive for Covid-19 in Chennai.The two passengers who were found positive were isolated and admitted to the hospital.
In Mumbai, a teenager who returned from Paris and a 41-year-old man who traveled to Barcelona, Spain, were on Friday found positive for Covid-19, taking the count of people who would be checked for the Omicron variant in the city to 14.
According to the Tamil Nadu government, samples for genome sequencing and identifying the COVID-19 variant are also being tested. This comes a day after two cases of the new variant of concern Omicron were detected in the neighboring state Karnataka.
The state government has ruled out social media reports claiming they were cases of Omicron but said tests only would conclude if they are infected with the latest variant of the coronavirus.
In Mumbai, a teenager who returned from Paris and a 41-year-old man who traveled to Barcelona, Spain, were on Friday found positive for Covid-19, taking the count of people who would be checked for the Omicron variant in the city to 14.
The number also includes four contacts of the positive cases. One more traveler tested positive in Mumbai, but the BMC hasn't included him in the tally of 14 as he lives outside the city limits.
Mumbai Civic Body Introduces 'Unique, Very Strict' Home Quarantine Mechanism
In the wake of newly detected cases of mutated new variant, the Municipal Corporation of Greater Mumbai (MCGM) has introduced a very unique and strict home quarantine monitoring mechanism for international passengers arriving from 'at-risk' countries. The quarantine is said to be as effective as institutional quarantine.
As per the new guidelines, Mumbai International Airport Ltd. will send a list of travelers coming from South Africa or 'at-risk' countries to the government every day, following which the Disaster Management team will then track all of these passengers.
The civic body stated that their objective is to prevent the possible spread of the Omicron variant in Mumbai. The list will also include the detailed address and contact numbers of these travelers.
"The BMC will get the list at 10 am daily, after which its staff will contact the passengers to inform them to remain home quarantined for the next seven days. Adherence to the home quarantine order is mandatory and the passengers will be shifted to government-run institutions if they are found violatingit," the official notification said. "An RT-PCR test will be conducted after seven days and necessary steps will be taken accordingly," the order added.
"We are alert about people returning from 'at risk' countries and have prepared an action plan for it. The airport authorities have been directed to inform our disaster control room on arrivals from these countries. 10 ambulances will be kept on stand by in each ward," said Mumbai Mayor, Kishori Pednekar.
Meanwhile, in Maharashtra, the number of 'suspects' has gone up to 30, according to the state government's update based on figures available at 7 am on Friday.
Omicron Patient Missing In Karanataka
In Karnataka, after two cases of the new Omicron variant of COVID-19 were detected in Karnataka, Chief Minister Basavaraj Bommai chaired a high-level meeting yesterday to analyze and advise on the test report of both the cases. Meanwhile, a probe has been ordered after one of the two men found positive for Omicron in Karnataka went missing after taking a Covid negative certificate from a private lab.
International passengers will be checked at the airport and sent outside only after getting the negative report, Bommai said at the meeting. Testing machines are additionally being installed for the convenience of passengers.
"In talks with airline companies, it has been suggested to create awareness among passengers."
International passengers from non-risk countries who are randomly selected for testing for COVID-19 will not have to pay for RT-PCR in Bengaluru. BIAL on Saturday announced that it will bear testing costs for 2% of international passengers who will be randomly chosen at Kempegowda airport. As per protocol, passengers from non-risk countries are randomly asked to undergo COVID-19 tests after their arrival.
"As per the international travel guidelines, 2% of the passengers coming from countries that are not in the 'at-risk' list shall undergo random testing at the Airport on arrival. The cost of random testing of such passengers will be borne by BIAL," it said in a tweet.