Peter Handke and Olga Tokarczuk win Nobel  Prize for Literature, 2019 and 2018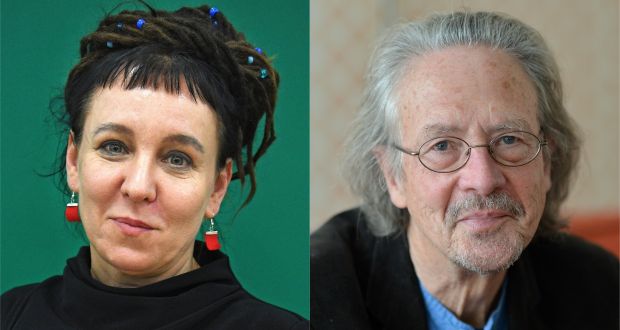 Austrian playwright and  novelist Peter Handke has won the 2019 Nobel Prize in Literature while Polish author Olga Tokarczuk  won the prize for the year 2018, the Swedish Academy announced on Thursday.
The 2018 Literature award was postponed for a year after  a sex scandal involving the husband of one of the members of the Academy. 
The winners will receive a cash prize  of 9-million Swedish kronor ($918,000), a gold medal and a diploma.
Handke has won the 2019 prize  "for an influential work that with linguistic  ingenuity has explored the periphery and the specificity of human experience," the Academy said in a statement.
The statement said , Tokarczuk has won the prize for 2018 " for a narrative imagination that with encyclopaedic passion represents the crossing of boundaries  as a form of life." 
One of the best-known  authors in Poland, Tokarczuk  was the winner of Booker International Prize  in 2018 for her work Flights, "which combines tales of modern-day travel with the story of a 17th-century anatomist who dissected his own amputated leg and the journey of composer Frederic Chopin's heart from Paris to Warsaw after his death."