PM presents Yoga Awards, releases commemorative stamps, launches 10 Health and Wellness Centers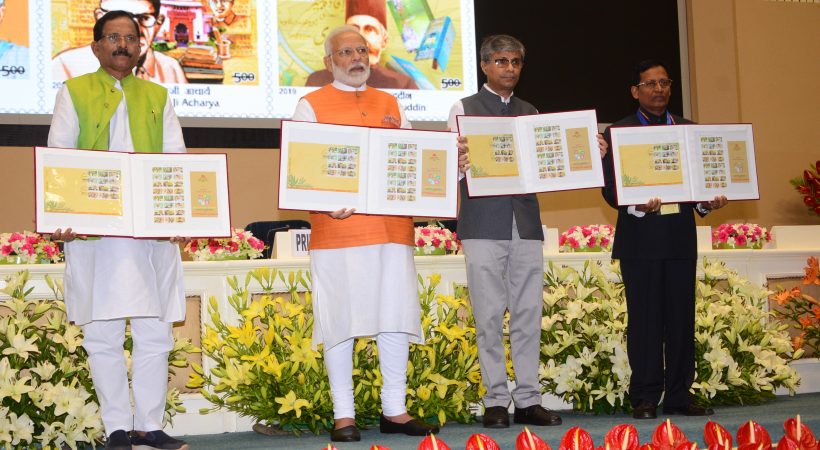 Great Ayurveda exponent and Sanskrit scholar   Vaidyabhushanam K Raghavan Thirumulpad from Kerala is among the honoured with commemorative postage stamps. 
Prime Minister Narendra Modi on August 30 in New Delhi presented Yoga Awards to the winners of PM's Award for Outstanding Contribution for Promotion and   Development of Yoga, which were announced during the International Day of Yoga, 2019 in Ranchi, along with the two winners of the previous year.  He has also released   commemorative postal stamps in honour of 12 eminent experts of alternative medical systems at a function organised by the Ministry of AYUSH at Vigyan Bhavan.
Speaking on the occasion about the importance of Yoga and Ayurveda in his life, he said the roots of yoga were traced to ancient India and that our texts too highlighted the importance of Ayurveda and Yoga. He has also reminded all of Gandhiji's view on Ayurveda and yoga, who called naturopathy a way of living.
Winners of Yoga Awards
Winners of this year's Yoga Awards are – Swami Rajarshi Muni of Life Mission, Gujarat in  Individual-National category, Ms. Antonietta Rozzi, Italy in Individual-International category, Bihar School of Yoga, Munger,  Bihar in Organisation-National category, and Japan Yoga Niketan, Japan in  Organisation-International Organisation category.
Winners of 2018 Yoga Awards are Shri Vishwas Mandalik, Nasik, Individual- National category and the Yoga Institute, Mumbai, Organisation – National category.
The award included a Cash Award of Rs. 25 lakh, Trophy and a Certificate, according to an official press release. 
Commemorative postal stamps
The Prime Minister has also released 12 commemorative postal stamps at the function in honour of eminent scholars, Practitioners and great Master Healers of alternative Systems. The honour highlights the great work and acknowledges the achievements of the great Master Healers of alternative medical systems.
Among the honoured is Vaidyabhushanam K Raghavan Thirumulpad, the eminent Ayurveda physician and Sanskrit scholar. Known for his ethical and at the same time rational approach to the practice of medicine made Thirumulpad very popular and inspiring among medical practioners. The government had honoured him with Padma Bhushan posthumously in 2011. .
The honoured
Dr. Babu Rajendra Lal Dutta,  Dr. Dinshaw Mehta,
Hakim Mohammed Abdul Aziz Lakhnawi, Hakim Mohammed Ajmal Khan Maharishi Mahesh Yogi,   Rajvaidya Shri Brihaspati Dev Triguna,
Swami Kuwalayananda,  Thiru T V Sambasivam Pillai,   Vaidya Bhaskar Vishwanath Gokhle,  Vaidya Bhushanam K Raghvan Thirumulpad, Vaidya Shastri Shankar Daji Pade , Vaidya Yadavji Trikamji Acharya
AYUSH Health and Wellness Centres
The Prime Minister has also launched on the occasion 10 AYUSH Health and Wellness Centres (AYUSH HWCs) located in Haryana.
He said out of 12,500, AYUSH Health and Wellness Centres, the government is planning to build across the country, and 4,000 centres would be completed this year.
According to an official press release, these centres will be complementing the National Health Policy, 2017 that insisted upon integration and mainstreaming of AYUSH services in conventional health care delivery system. It would be a historic beginning in mainstreaming of holistic, preventive, curative, rehabilitative and palliative AYUSH care for achieving comprehensive health care.