Prime Minister Modi  receives top UAE, Bahrain honours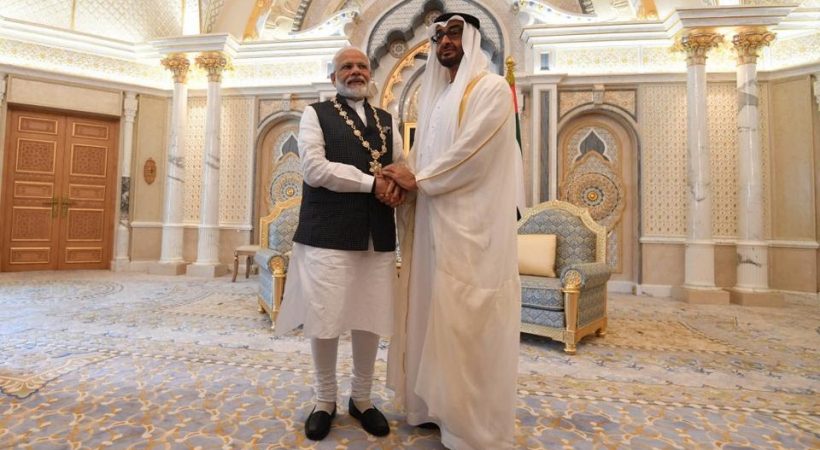 Prime Minister Narendra Modi on Saturday received the highest civilian award of the UAE in the name of the  first president of the country Sheikh Zayed Bin Sultan Al Nahyan. The award, "Order of Zayed" for the Indian Prime Minister was announced in April, in recognition of his distinguished  leadership for giving a big boost to bilateral relations between the two countries.
Prime Minister Modi was conferred with the highest civilian award by Abu Dhabi Crown Prince Sheikh Mohammed Bin Zayed Al Nahyan  at a ceremony in Abu Dhabi. 
A  special commemorative stamp to mark the150th birth anniversary  of Mahatma Gandhi was also released.
Prime Minister Modi  arrived in Bahrain on Saturday and held talks with King Shaikh Hamad Bin Isa Al Khalifa. The King bestowed the Bahrain Order- First Class on Prime Minister Modi in recognition of  his efforts to strengthen bilateral relations with the Kingdom of Bahrain.
O n receiving the honour Modi said: "I feel very honoured and fortunate to be awarded The King Hamad Order of the Renaissance. I am equally honoured by Your Majesty's friendship for me and for my country.

I humbly accept this prestigious honour on behalf of 1.3 billion Indians. It is an honour for entire India. This is a recognition of the close and friendly relations between the Kingdom of Bahrain and India. These relations go back thousands of years."
From Bahrain  the prime minister  would leave for France to attend the G7 meetings.