Prime Minister Narendra Modi Takes the Lead in Yoga Session at UN Headquarters for 9th International Day of Yoga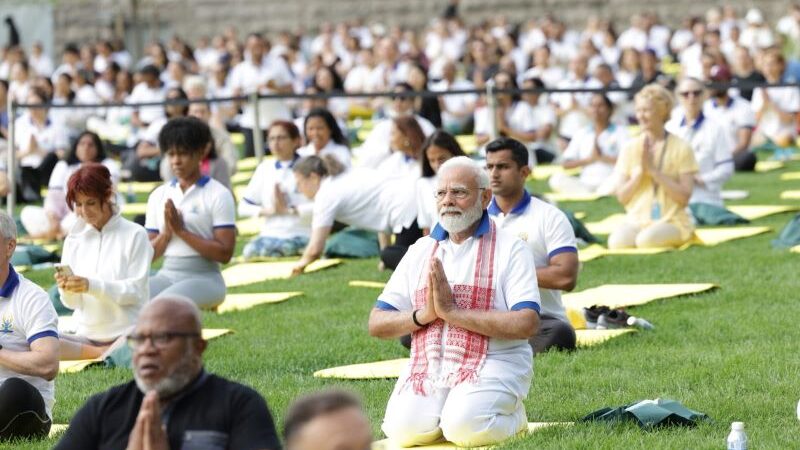 In a momentous celebration, Prime Minister Narendra Modi led a captivating yoga session at the United Nations Headquarters in New York to commemorate the 9th International Day of Yoga. The event witnessed the enthusiastic participation of esteemed UN officials, global envoys, and renowned celebrities.
Upon his arrival at the UN Headquarters, Prime Minister Modi paid homage to a statue of Gandhi, embodying the spirit of peace and unity. The sprawling North Lawn of the headquarters was adorned with hundreds of vibrant yellow yoga mats, setting the stage for a memorable gathering.
In his address to the attendees at the Yoga Day event, PM Modi expressed his joy and gratitude, stating, 'We have convened here, at the convergence point of humanity as a whole. I am thrilled to witness such a remarkable gathering, and I extend my heartfelt thanks to each and every one of you. I am delighted to learn that today we have representation from nearly every nation. Yoga signifies union, and your presence here today signifies another form of Yoga.'
Prime Minister @narendramodi leads the way during the #InternationalYogaDay celebrations at @UN HQ in #NewYork, US

A few glimpses👇🏻#InternationalDayofYoga2023 #IDY2023 pic.twitter.com/qj2NyTmVrg

— PIB India (@PIB_India) June 21, 2023
He further elaborated, 'Yoga originates from India and has a rich ancient tradition. Yoga transcends boundaries of copyright, patents, and royalty payments. It is adaptable to all ages, genders, and fitness levels. Yoga is portable and truly universal.'
The star-studded guest list included distinguished personalities such as New York Mayor Eric Adams, UN Deputy Secretary General Amina J. Mohammed, renowned Hollywood actor and human rights advocate Richard Gere, digital evangelist Vala Afshar, award-winning storyteller Jay Shetty, acclaimed Indian chef Vikas Khanna, Mike Hays, esteemed US Navy SEAL Britt Kelly Slabinski, and many others.
Joining the event were American singers and actress Mary Millben and Falguni Shah, three-time Grammy Award-winning artist Ricky Kej, CNN anchor Zain Asher, and Jahnavi Jivana Dasi, a talented British musician, adding to the vibrancy of the occasion.
Following the event, Prime Minister Modi embarked on his journey to Washington DC, where he is scheduled to participate in a background briefing conducted by Donald Lu, the assistant secretary of the US State Department for South and Central Asia. He will also engage in private discussions with US President Joe Biden, followed by an exclusive engagement with the President and First Lady.
Incredible! #YogaDay brought together yoga enthusiasts at the @UN HQ, setting a new Guinness World Record. This is Yoga's unifying power in action, exemplifying 'Yoga for Vasudhaiva Kutumbakam' – the world is indeed one family. A milestone moment for the Yoga lovers. pic.twitter.com/8r9RPA2MnY

— Narendra Modi (@narendramodi) June 21, 2023
At the Yoga Day celebration held at the United Nations Headquarters in New York, UN General Assembly President Csaba Korosi, India's Permanent Representative to the UN Ruchira Kamboj, and New York Mayor Eric Adams warmly welcomed and addressed the crowd, embracing the presence of PM Narendra Modi.
Speaking on the significance of the event, Kamboj expressed, 'Today's celebration holds great significance as PM Modi will lead us in practicing yoga here. It was under his visionary leadership that June 21st was declared as International Yoga Day. It is only fitting that the driving force behind this idea is here with us today, in this picturesque multicultural setting of the UN.
Delighted to take part in the #YogaDay programme at @UN HQ. Let us make Yoga a part of our lives and further wellness. https://t.co/XvsB8AYfGs

— Narendra Modi (@narendramodi) June 21, 2023