RS.3 lakh crore Collateral-free loan for MSMEs,TDS rate cut by 25%, ITR filing deadline extended till November 30 : Nirmala Sitharaman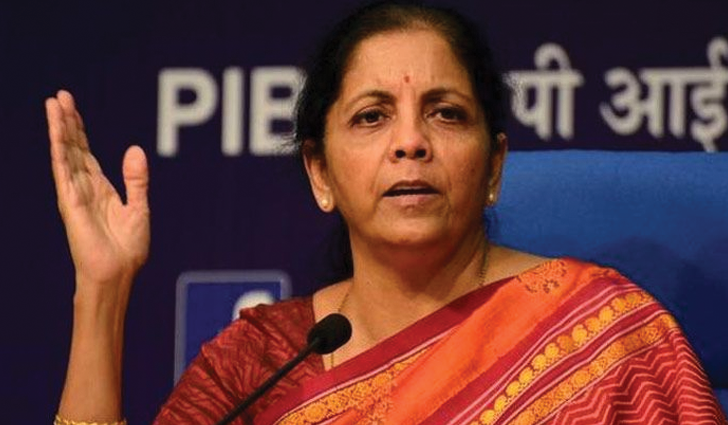 On a mission to reboot India's economy which has lost its momentum due to the coronavirus pandemic, Central Finance Minister Nirmala Sitharaman has announced the allocation of  Rs. 20 lakh crore 'Atmanirbhar Bharat Abhiyan' package which was announced by Prime Minister Narendra Modi yesterday. It is expected to be all sections encompassing allocation including the middle-class, SMEs, laborers, farmers and the industry. The economic package is themed about the 'Self-reliant India campaign'.
As part of the package Finance Minister has reduced TDS rate by 25% and according to the minister this will infuse liquidity of Rs.50,000 crore in to economy. Being changed the definition of MSME there is RS.3 lakh crore Collateral-free loan for MSMEs and RS.45,000 crore liquidity infusion as the first 20% loss will be borne by govt.of India. Nirmala Sitharaman said.
Highlights :
-Vivad se vishwas scheme deadline extended till
-Tax audit deadline has been extended from 30th September, 2020 to 31st October.
-Due date for filing income tax returns (ITR) extended from July 31 to November 30: Sitharaman
-All pending payments shall be issued immediately: FM
-The TDS reduction will infuse liquidity of ₹50,000 crore: FM
-The TDS rate cuts will apply for all purposes. It comes into force from tomorrow: FM
-Till 31 march 21, TDS, TCS rates by 25%: Sitharaman
-In a major relief to contractors, all Central agencies to provide an extension of up to 6 months, without cost to contractor, to obligations like completion of work covering construction and goods and services contracts: Finance Minister Nirmala Sitharaman
-The urban development ministry will ask state governments to treat Covid as force majeure and be flexible about execution of real estate projects.
– Rs. 45,000 crore liquidity infusion, first 20% loss will be borne by govt. of India, even unrated papers will be eligible for investment, enabling NBFCs to reach out even to MSMEs in far-flung areas: FM
– Rs. 90,000 crore liquidity injection for Power Distribution Companies (DISCOM)
-Partial credit guarantee scheme for NBFCs
– Rs. 30,000 crore liquidity scheme through debt papers, HFCs and micro-finance institutions: Sitharaman
-The reduction of statutory EPF contribution will increase take home pay and also increase liquidity
-CPSEs will continue to maintain EPF at 12%: FM
-The statutory PF contribution is being reduced from 12% to 10% for 3 months: Sitharaman
-Govt of India will pay for EPF for another 3 months. 72 lakh employees will benefit from it: FM
-Liquidity relief is being given for all EPF establishments. 12% of contribution which is paid by employer, and 12% by employee is now extended for another 3 months.
-Global tenders to be disallowed in government procurement up to Rs. 200 crores. This will make self-reliant India, will also then be able to serve 'Make in India': Sitharaman
-The new MSME definition addresses MSMEs' fear of losing benefits due to outgrowing the MSME definition. Now, MSMEs need not worry about growing in size, they can continue to receive MSME benefits: Sitharaman.
– Rs. 50,000 cr. equity infusion for MSMEs through Fund of Funds; to be operated through a Mother Fund and few daughter funds; this will help to expand MSME size as well as capacity: Finance Minister Nirmala Sitharaman
-Definition of MSMEs being revised: FM
-Borrowers with upto Rs. 25 crore outstanding and Rs. 100 crore eligible for collateral-free automatic loans: FM
-45 lakh units can resume business activity and safeguard jobs due to relief package
-Sitharaman announces subordinate debt schemes for stressed NPAs
-This will enable 45 lakh MSME units to resume business activity and also safeguard jobs: FM
-Collateral-free loan for MSMEs upto Rs. 3 lakh crore: Sitharaman
-6 major steps for SMEs: FM
-15 measures to be announced today – EPF, small sector enterprises, MFIs, discoms, contractors, real estate and tax measures.
-Income tax refunds of ₹18,000 crore expedited to improve liquidity: FM
-Beginning today, for the next few days, I will release details of the vision which the PM has put out yesterday: FM
-Self-reliant India does not mean cutting off from rest of the world: Sitharaman.
-The PM has always been on the side of reforms: FM
-Given pillars based on which we seek to build 'Aatma nirbhar Bharat', our focus would be on land, labour, liquidity and law. A global value chain integration is a part of this vision: FM
-India's economic package is among the largest economic stimulus package announced by nations around the world but would rank behind Japan, the US, Sweden, Australia and Germany.
-The intention is to take local brands and take it to a global level: FM
-Essentially, it is to spur growth and built a self-reliant India: Sitharaman
-FM press conference begins.
-Ahead of the FM's presser, the Sensex settled 637.49 points or 2.03% higher at 32,008.61 while the NSE Nifty jumped 187 points, or 2.03 per cent, to finish at 9,383.55.
-Sitharaman has said that the financial package is a reform stimulus, a mindset overhaul, and a thrust in governance.
– PM Modi has also hinted at major economic reforms.
-Sitharaman had yesterday said that the 'Aatma Nirbhar Bharat' or self-reliant India campaign does not imply isolationism or becoming exclusionist. "We'll build capacities, skill people and compete globally acquiring strengths. We'll build the local. After all, every global brand began with their local strength. We shall integrate with GVCs," she had said.
-In late March, the Narendra government had announced fiscal measures worth ₹1.7 lakh crore while the RBI offered liquidity support of ₹3.7 lakh crore in March and ₹2 lakh crore in April.