Startling Footage Emerges: Passenger Records Engine Flames Mid-Flight on Major US Carrier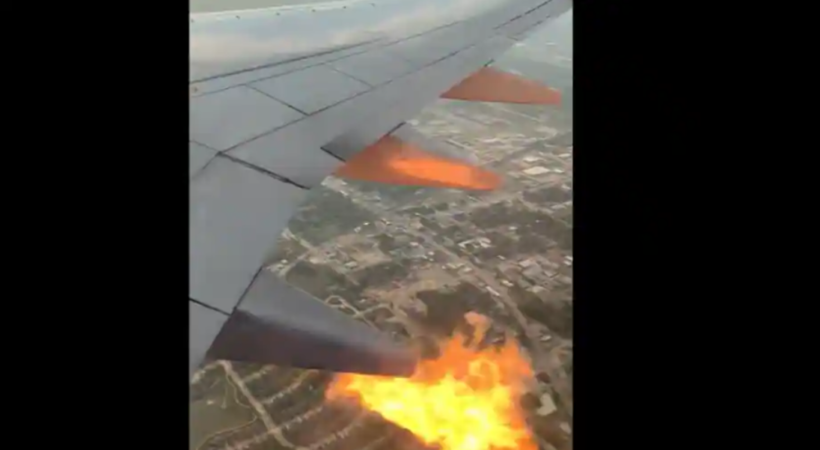 A gripping video, captured by a courageous passenger, has emerged, depicting a tense moment when flames erupted from an aircraft engine during flight, necessitating an emergency landing that showcased the swift and adept response of the airline crew.
The intense video, recorded by a passenger identified as Ricardo Garcia, documents a Southwest Airlines flight bound for Mexico, where flames dramatically burst from one of the aircraft's engines. The clip has since gained widespread attention on social media platforms, portraying the aircraft soaring through the skies near Houston as flames emanate from the right engine. The flight, recognized as Flight 307, was en route from William P. Hobby Airport in Houston to Cancun on the evening of August 16th.
According to a report from KHOU, the aircraft encountered a mechanical issue shortly after takeoff, which prompted the airline's emergency procedures to be enacted. This rapid response led to a prompt and safe landing. The airline, headquartered in Dallas, promptly issued an official statement, emphasizing the safety of its passengers as the utmost priority.
"The aircraft executed a safe landing and has been temporarily taken out of service for a thorough assessment," stated a spokesperson from the airline. "We express our gratitude for our passengers' patience and support as a replacement aircraft continued the journey to Cancun later that evening."
Gracias a los Pilotos del vuelo 307 Houston-Cancún de Southwest Airlines por regresarnos a tierra después De perder un motor Gracias !!!
Sigo tratando de entender. pic.twitter.com/rXr3UjLgZi

— Ricardo Garcia (@ricardogarziia) August 16, 2023
The incident was also observed from the ground by Andrew Sandino, a 38-year-old mechanical engineer, who was on his way to work near Hobby Airport. Sandino described witnessing substantial plumes of smoke emerging from the right engine, followed by bursts of fire. The aircraft appeared to sway erratically, causing a moment of intense concern, he reported in an interview with NBC News.
Remarkably, Flight 307 was in the air for only 16 minutes before the passengers were skillfully guided back to the ground and swiftly transferred to a replacement aircraft. The incident underscores the airline's dedication to passenger safety and the effectiveness of their operational procedures.
While this incident serves as a vivid reminder of the challenges of air travel, it is crucial to note that the airline has maintained an impressive safety record throughout its history, marked by an absence of fatal crashes. This recent incident, albeit tense, highlights the industry's readiness to manage unforeseen challenges and prioritize the well-being of passengers above all else.