Thatched Roof for 150 years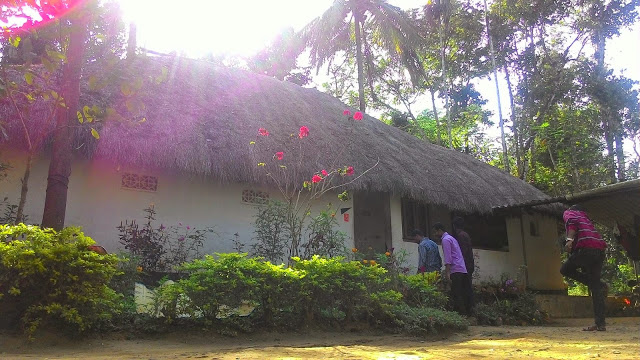 The Kavikal house at the Chekadi village at the Kerala- Karnataka border in Wayanad has been thatched for almost 150 years and the family has decided to continue the tradition forever. Subsequently, even with the scorching heat of the summer, it is cool and comfortable inside.
The house carries the authentic and the royal tradition of the Chekadi village and has seen the history of around 5 traditions. Even with the new trends in architecture and the latest styles of houses, the new generation of the Kavikal family has decided to maintain their ancestral home with the antiquity it carries. The house has withstood extreme climates and stands as a silent witness to the history of Wayanad for the past 150 years.
The foundation of the house is made with the rocks from the forest and the walls are made of bricks made from clay. The roofing has been supported by exquisite wood from the forest and an upper floor made with bamboo and soil is also present. The house is then thatched with a particular kind of grass that is found in the area. Except for the grass that is placed every year, no major changes have been made for the past 150 years.
Wayanad has its own variety of aromatic rice known as theGadhakasala and the Kavikal house is situated next a large paddy field cultivating this. Subsequently, in all seasons, there would be an aromatic breeze from the paddy fields that fills the interiors of the house. The house would be warm in winter and the rainy season and would be cool during summers and this can be attributed to the traditional style of building.
Mr. Rajagopal and family belonging to the Chetti community own the hose at present and they still earn their living by the traditional trade of farming that spreads over almost 10 hectares. 90% of the village of Chekadi consists of Adivasis and Ms. Premavalli, the wife of Mr. Rajagopal is the Panchayath member of the village. Earlier, Rajagopal was also the member of Panchayath from this village. Though modern techniques and ideas flew in to this village, Rajagopal and his family decided to continue with their traditional house and when electricity came in to the village, the house welcomed this too.
Chekadi is surrounded by forest on all four sides and one would have to take the route through the forest to reach the village.  The village has almost 225 hectares of paddy field and almost 40 hectares of land which are cultivable. The rest of the village is dense forest with the river Kabani flowing through one side.
A prominent spot for tourism in the village the house is also the commencing point for all the major discussions for the development of the village.