This Kerala girl loves reading, others read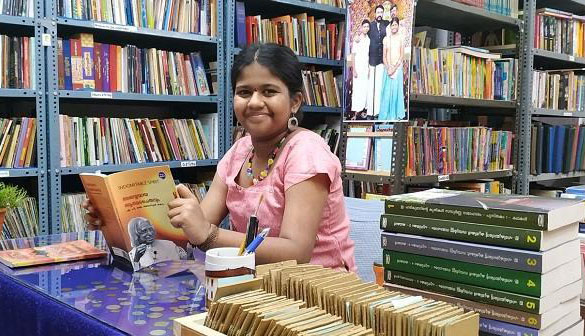 12-year-old Yashoda is proud owner of a library which lends books free
Reading and Malayalis (Malayalam-speaking people chiefly inhabiting the Indian state of Kerala)  are inseparable. That's why every village in Kerala has a library. Every school has a library and reading books other than text books here is compulsory. They also love to share their books with others. They know book is knowledge and knowledge should be shared. Hence it is no wonder that 12-year-old Yashoda D Shenoy in Kochi is a proud owner of a library which lends books free to the young and old who love reading.
"Yashoda Library"  does not charge any  subscription fee  or late fee.   There is a reason for that. An avid reader since her childhood,  Yashoda was member of a library.  Once she could not return the book on time and the librarian put a fine on her for returning the book late. It hurt her.
She decided to open a library of her own where books are lent free. She told her parents about her plan and they wholeheartedly supported her venture.
Her father started putting posts on face book and the response was overwhelming. So many people donated books and she has now 3,500 books, Malayalam and English, in her library.
"Yashoda loves to read books, and she believes that reading should be free for everyone.  Yashoda's father Dinesh R Shenoy told the news agency ANI.
This young librarian wants to become an advocate in future.