Three surgeries done on a housewife at a time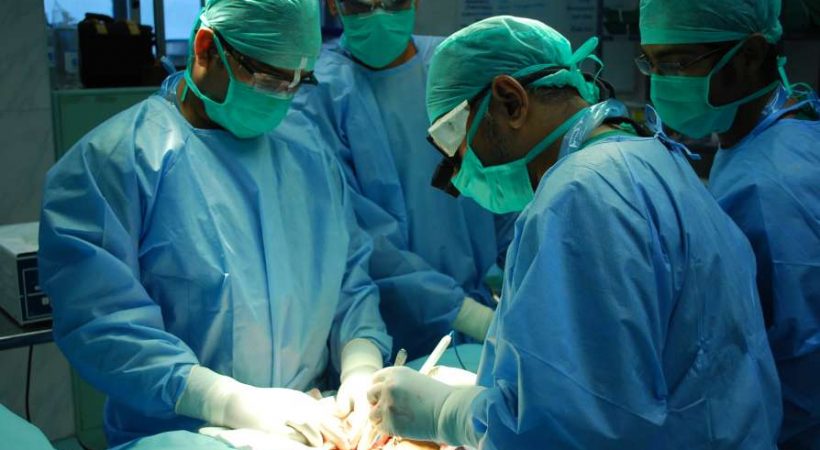 At the Thiruvananthapuram medical college hospital,Kerala, three surgeries along with a heart surgery were successfully completed on a housewife in a span of seven hours. The 49-year-old housewife who sought treatment was suffering from breathlessness and trouble in the stomach. On examination, it was found that the valve of the heart was constricted and a lump was seen in the left ventricle of the heart. The valve from the left ventricle was seen to be pushing the lump into another compartment of the heart and this was seen to be laying spread in this compartment.
On close examination, the thyroid gland of the patient was seen to have a cancer lump that was growing and this was seen spreading on the legs of the neck region.
Another big lump was also found in the uterus. After examination, the doctors decided to remove the lump in the heart, the thyroid gland and the uterus. The date of conducting the three surgeries was decided as January 25 by the doctors of the department of cardio-thoracic, gynecology, anesthesia.
The surgery on the neck was conducted by Associate Professor, Dr. Vineeth and a team of the General Surgery department. Simultaneously, a team led by Assistant Professor, Dr. J Simi of the gynecology department removed the uterus. After these surgeries, a team of doctors including, Prof. V. Sureshkumar, Dr. Krishna and senior residents, Dr. Vipin and Dr. Mahesh conducted the surgery to remove the lump from the heart.
The lump in the uterus was 20 cm long and the one in the heart was 7 cm long. Others who were part of the surgery team were the anesthesia specialists, Dr. Thushara and Dr. Sheethal. The others were the perfusionists, Revathi and the theatre nurses, Shyny, Soorya and Roopa. The patient left the hospital one week after the surgery after she was totally and completely healed. The head of the cardio-thoracic department, Dr. Abdul Rasheed said that this kind of surgery was very rare. The surgery was done using the health insurance scheme.