Tiger travels 2000 km in search for its mate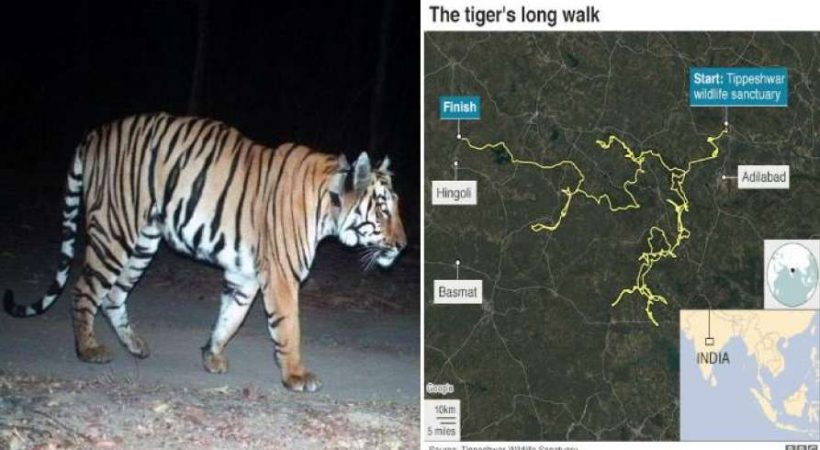 New Delhi: Animals are known to travel to different places for food and shelter. But, here a tiger that belonged to the Tipeshwar Wildlife Sanctuary in Maharashtra has travelled nearly 2000 km in search for its partner. This information was tweeted by IFS (Indian Forest Service) officer, Praveen Kaswan from his personal twitter account. He also tweeted that the tiger right now reached the Dnyanganga Wildlife Sanctuary in Maharashtra.
He said that the tiger reached this destination after travelling through canals, roads, forests and agricultural lands. This tiger was radio tagged in 2019 and a GPS tracker was also placed on the tiger's neck. In this way, the tiger's journey and movement was tracked.
The tiger was known to have reached its destination by travelling in the nights and resting during the day time.
However, it was reported that in spite of this long journey the tiger did not attack any humans or domestic animals. It is also not clear if the tiger has already found its mate.
However, it is still under observation.
This #Tiger from India after walking into records has settled to Dnyanganga forest. He walked for 2000 Kms through canals, fields, forest, roads & no conflict recorded. Resting in daytime & walking in night all for finding a suitable partner. Was being continuously monitored. pic.twitter.com/N1jKGXtMh2

— Parveen Kaswan, IFS (@ParveenKaswan) March 5, 2020