Munnar Covered in the Blue Blanket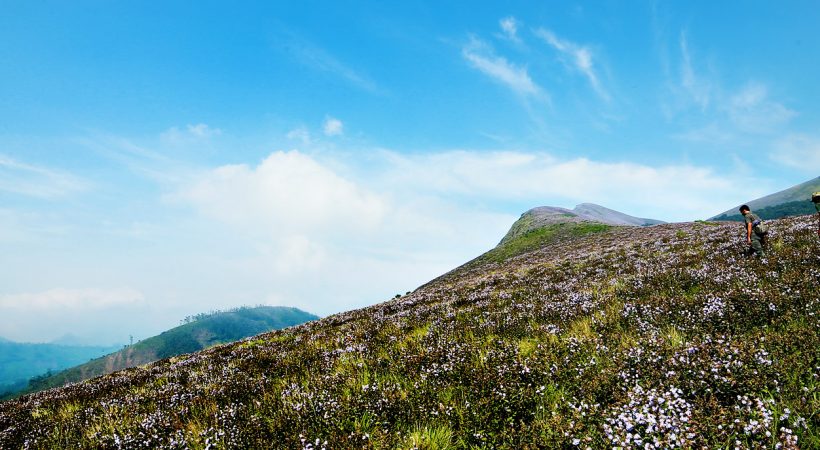 Mysterious yet attractive, Munnar beckons you to feel its tranquil state of dispassionateness. A valley situated in the southern state of Kerala and cradling among greenish mountains of Western Ghats, it attracts tourist with its enchanting beauty of colossal mountains both in terms of beauty and size. Munnar hit the headlines recently after it become a blue ocean of flowers. Scientifically known as Strobilantheskunthianus, the Neelakurinji has flowered in the mountains of Western Ghats after 12 years and tourists have started to seep towards this hill station to plunge into this ocean of merriment.
Neelakurinji, which blossoms once in 12 years bloomed in 2006 the last time. After years of disguise in the mud, the plants scooped out this year to tone Munnar with a much more alluring tint of blue. Neelakurinji belongs to the Acanthaceae plant family and 50 varieties of it are found in Asian continent of which 40 are present in Munnar. Moreover, Neelakurinji has made room for Western Ghats mountain range in the list of World Heritage Sites.
Neelakurinji blooms once in a lifetime and after producing seeds it goes into an eternal slumber. The seeds sprout and the plant grows up, blooming after 12 years. When it grows, it heightens up to 10 feet.
Most of the plants are found in Eravikulam National Park in Munnar. But to cherish the beauty of the flower clad mountains, you must visit Rajamala. Every day, around 3500 people are allowed to enter here and 75% of the tickets are booked online. For adults it would costRs.120 and for children, tickets are available at Rs.90.
This incredible range of mountains would be covered with the blue carpet of Neelakurinji till November.
-Praveen Vikkath–[email protected]