Trump declares national emergency over coronavirus pandemic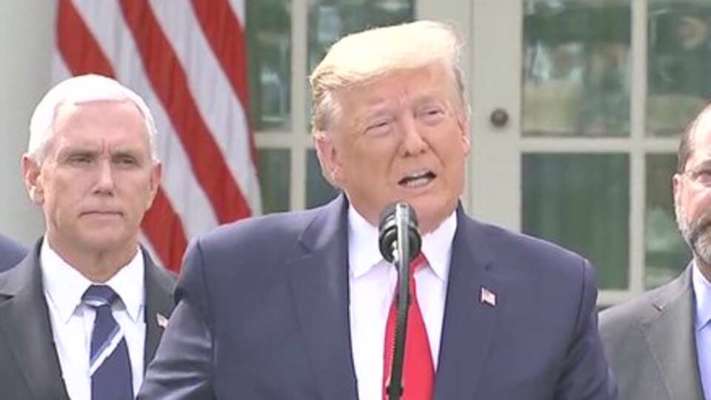 President Donald Trump on Friday declared a national emergency over the coronavirus outbreak, invoking the Stafford Act to open the door to more federal aid for states and municipalities.
"I'm urging every state to open emergency operations centers," Trump said at a press conference in the Rose Garden.
The declaration allows the government to marshal additional resources to combat the virus. It also marks a symbolic turning point for the president, who has repeatedly compared the coronavirus to the seasonal flu and insisted that his administration had the outbreak under control.
Senate Democrats had urged Trump to invoke the Stafford Act and other disaster declaration requests that would free up more than $42 billion in funding for states available in the Disaster Relief Fund. Trump says that it allows the federal government to tap up to $50 billion in emergency relief funds. The move loosens regulations on the provision of healthcare and could speed up testing – the slow pace of which has been criticized widely.
An emergency declaration would allow a state to request a 75% federal cost-share for expenses that include emergency workers, medical tests, medical supplies, vaccinations, security for medical facilities, and more, according to a letter Democrats sent the president earlier this week.
Only a few emergency declarations for public health threats have been made since the 1960s, and only two have targeted disease outbreaks, when President Bill Clinton in 2000 declared emergencies in New York and New Jersey in response to the West Nile Virus.
As of now, there are 1,701 confirmed cases of Covid-19 in the US, and 40 deaths. So far, there are 1,701 confirmed cases of Covid-19 in the US, and 40 deaths. Therefore, several US states have taken measures to stem the infections rate, including banning large gatherings, sporting events and closing schools.
This virus originated in China last December, but Europe is now the "epicenter" of the global pandemic, the head of the World Health Organization said on Friday, as several European countries reported steep rises in infections and deaths.
Italy has recorded its highest daily toll yet – 250 over the past 24 hours, taking the total to 1,266, with 17,660 infections in the country.