Trump heaps praises on India, Modi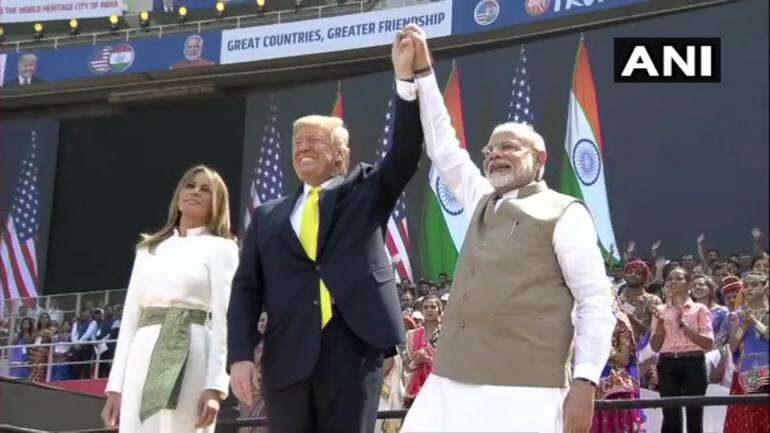 "I have travelled 8,000 miles across the globe to convey just a message that America loves India. US respects India, will be a faithful and loyal friend.
"We will always remember this remarkable hospitality. India will hold a special place in our hearts," Donald Trump
United States President Donald Trump, accompanied by First Lady Melania, daughter Ivanka, son-in-law Jared Kushner and top brass of his administration, arrived in Ahmedabad around 11.40 am on Monday to  a heartiest welcome at the Sardar Vallabhbhai Patel International Airport in Ahmedabad with Prime Minister Narendra Modi holding the President close to his heart.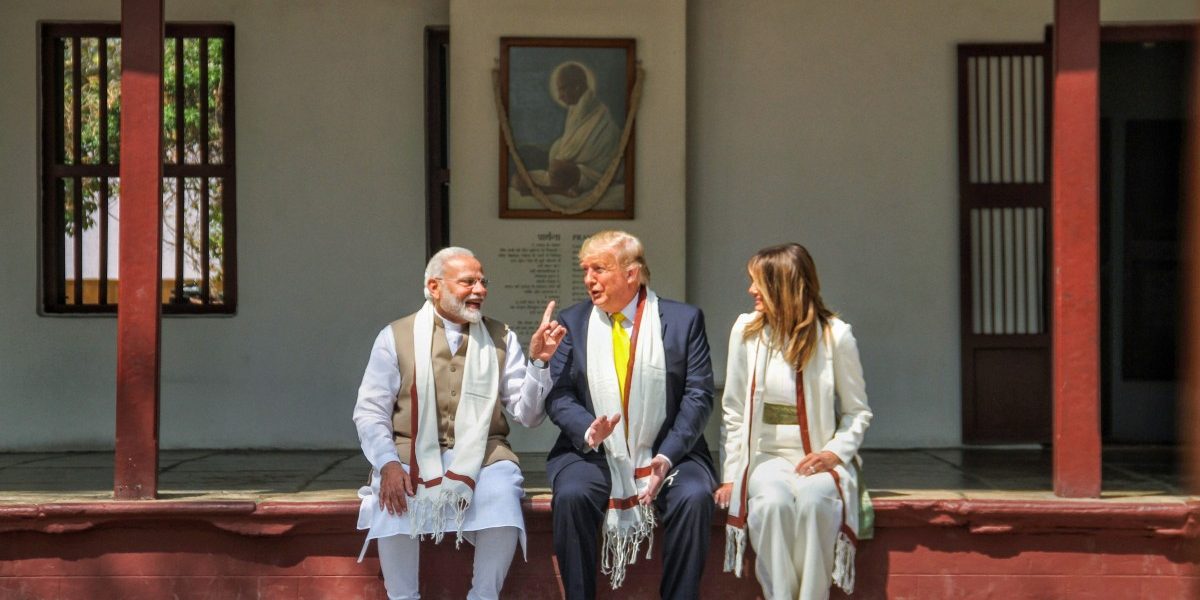 Donald Trump's two-day  maiden visit to India after becoming the President of the United State  began with a visit to Gandhiji's iconic Sabarmati Ashram in Ahmedabad , situated  on the banks of the Sabarmati river.  
Amid tight security, President Trump and Prime Minister Narendra Modi held a 22-km roadshow in Ahmedabad. Dancers, artistes and a large crowd, chanting "Namaste Trump"  were seen thronging both sides of the road as the US President's cavalcade moved fast towards Motera stadium, the venue of the "Namaste Trump" event. 
At Sabarmati Ashram. President Trump and First lady Melania Trump removed their shoes before entering the ashram and  went around the complex and visited the humble home in which the Mahatma lived. They also tried their hands on spinning the 'charkha'. 
The  Prime Minister and the US President arrived at the venue'Namaste Trump' event with Elton John being played in the background at the Motera stadium, where President Trump was accorded  a spectacular reception by a large crowd, numbering over 100,000 filling the world's biggest cricket ground.
Weloming President Trump to the Namaste Trump event, Prime Minister  Narendra Modi, recalling the grand 'Howdy Modi' event in Houston in September, 2019, said history was being repeated in Motera Stadium. 
The 'Namaste Trump' event  was based on the lines of 'Howdy Modi' programme that was addressed by Modi and Trump during the prime minister's visit to Houston in September, 2019.
"The meaning of the name of the event 'Namaste' is very deep. This is a word from the oldest languages of the world – Sanskrit. It means that we pay respect to not only to the person but also to the divinity inside him," Prime Minister  Modi said.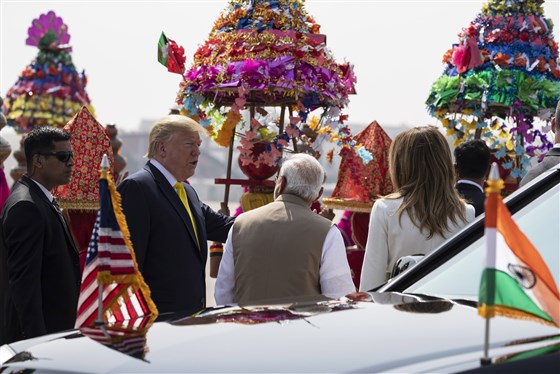 Addressing the huge crowd  the Prime Minister hailed US President Donald Trump for deepening the India-US ties significantly and said that the visit was reflective of a new chapter in bilateral ties of the two countries.
"India-US relations are no longer just another partnership. It is a far greater and closer relationship," he said. 
"America is India's biggest trading partner. Today, our military is doing the maximum number of joint drills with America. The US is our biggest research and development partner. India and the US are natural partners,"  the Prime Minister said . 
US President Donald Trump began his address at the Motera stadium with a "Namaste." The president also said that it is a great honour to be in India. He said he was thankful to his "great friend Modi" to according a "beautiful welcome".
"Prime Minister Modi and I will be making some very big trade deal to boost our countries economy. I am sure that we can reach a good trade. But Modi is a tough negotiator. A booming America is great for India and the world. Modi has made some significant reforms in India. The world wants to see more reforms."
"I have come to India to expand our relations. Modi and I will continue our dialogue to deepen the relation between our countries. Our relations took a new turn when the Indian and US military has a joint exercise – Tiger Triumph. We make the best military hardware and we now deal with India. Tomorrow (Tuesday) we will sign a $3-billion defence deal. We want India to become our premier defence partner," he added.
Trump said that the US will be signing a brilliant trade deal with India, at the same time adding that "PM Modi is a tough negotiator".
"We are working towards safeguarding our borders. Every nation has the right to safeguard their territory against infiltrators," President Trump said.
"We are committed to provide , with state of the art defence equipments to India. The US and India are firmly resolved to fight the threat of radical Islamic movement. As we continue to build our defence cooperation, the US looks forward to providing India with some of the best & most feared military equipment on the planet. We make the greatest weapons ever made. We make the best and we are dealing now with India.," said Trump.
President Trump said that relations with India hold a special place for his country, saying that America "loves" and is "loyal" to India
The US president also heaped praises on Modi, describing  him as an "exceptional leader" who works day and night for India.
As the world's largest economy, India gives hope to all humanity and has become an economic giant, Trump said. "There is a difference between a nation that rises by coercion and one that rises by setting its people free — that is India. India and the US have natural and enduring friendship," he said.
Trump  praised India's cultural diversity and riches as he highlighted the success of the Bollywood movies like Dilwale Dulhania Le Jayenge and Sholay, and its sporting icons like Sachin Tendulkar and Virat Kohli..
He also said, "An exciting time in United States. Unemployment has hit historic lows. Our military line is completely rebuilt. It is the most powerful military anywhere in the world. That's why we are here to cherish our shared culture." 
"PM Modi you are not just the pride of Gujarat, you are living proof that with hard work and devotion, Indians can accomplish anything at all, anything they want. The Prime Minister is a moving story of an incredible rise," said Donald Trump.
"We will always remember this remarkable hospitality. India will hold a special place in our hearts. PM Modi started out as 'tea wallah', he worked as a tea seller. Everybody loves him but I will tell you this, he is very tough," said Donald Trump.
"I have travelled 8,000 miles across the globe to convey just a message that America loves India. US respects India, will be a faithful and loyal friend, "said the US President at the 'Namaste Trump' event.
The US President concluded the first leg  of his two-day prograermmes in India with a visit to Taj Mahal in Agra on Monday evening. The presidential delegation then left for Delhi, whre President  Trump and PM Modi are holding talks today (Tuesday).