U.S opens borders for fully vaccinated passengers: Things to know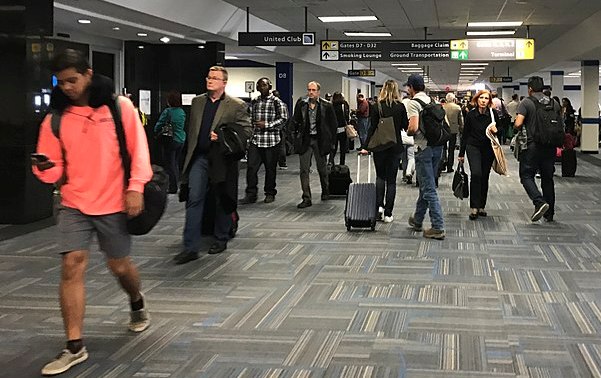 With the lifting of travel restrictions for fully vaccinated international passengers, several Indian professionals who work in the U.S have started heading to the U.S on Monday.
Several professionals who work in the U.S were stranded in India as the U.S closed its borders to international travelers last year.
Only travelers holding visas belonging to certain categories were allowed to travel.
Starting today, November 8, the US has lifted all restrictions for fully vaccinated international travelers, including from India, but they will have to show proof of a negative coronavirus test before boarding a flight to the country, a PTI report said.
According to the report since the outbreak of the pandemic last year, most companies and institutions had allowed employees to work from home with digital technology playing a big role in helping colleagues stay connected in a 'new normal' scenario.
Many US-bound passengers, including women, said their vaccination status had boosted their confidence, the report said.
At the airport, as family members bid goodbye to each other, many were overcome by emotion as they hugged, some taking the mandatory selfie to mark the occasion.
The White House late last month said the US will lift all travel restrictions for incoming non-citizens and non-immigrant travelers from November 8, with only limited exceptions.
They will be required to be fully vaccinated and produce proof of their COVID-19 vaccination prior to boarding a flight to the country.
Passengers will need to show their vaccination status, and the airlines will need to match the name and date of birth to confirm the passenger is the same person reflected on the proof of vaccination, according to an official statement issued earlier.
Things to know:
Children under 18 years of age exempted from vaccination criteria
Digital and paper documentation is acceptable for proof of vaccination, and vaccine cards do not need to be in English.
Travelers should be prepared to attest to their vaccination status and reason for travel. They should also be prepared to show proof of being fully vaccinated if requested by a CBP officer.
Children under 18 travelling with vaccinated adults are exempt from the vaccination requirement.
People of more than 30 countries can now visit USA
Lifting the travel curbs will affect more than 30 countries. But entry into the United States will not be totally unregulated: US authorities plan to closely monitor travelers' vaccination status and will still require them to present negative Covid-19 tests.
Airlines to check for vaccination documents
Airlines will check vaccination documents for international travelers as they currently do for COVID-19 test results. At land border crossings, U.S. Customs and Border Protection will check if travelers have been vaccinated and spot check some documentation.
Negative COVID-19 test mandatory
Air travelers also need to carry a negative COVID-19 test. Testing is needed of all fully vaccinated air travelers ages 2 and up, regardless of nationality. Passengers are required to test negative for COVID-19 within three days of their flight's departure for the United States.
Local restrictions in some cities still apply
There are some state and local curbs that still apply.
There are mask mandates in Hawaii, Illinois, New Mexico, Nevada, Oregon and Washington. Washington, DC.
Puerto Rico also requires masks in indoor public spaces.
In  New York and San Francisco, there are vaccine requirements for indoor public spaces including restaurants, reported CNN.