U.S Senate approves $2 Trillion Coronavirus Stimulus Package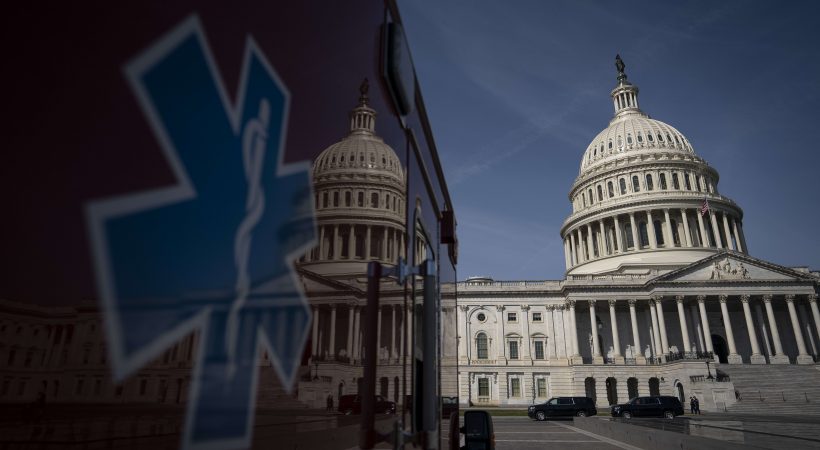 Washington: This is the largest economic stimulus measure in modern history to confront the coronavirus pandemic. The Senate approved this package that will give American families and businesses a financial shield against the ravages of the new coronavirus pandemic. The sheer size and scope of the package would have been unthinkable only a couple of weeks ago in a deeply polarized Congress that has found it impossible in recent years to agree on major new policy initiatives. "In effect, this is a wartime level of investment into our nation," Senator Mitch McConnell, Republican of Kentucky and the majority leader, said on the Senate floor in announcing the deal. Some of the key points of this stimulus package are:
Taxpayers will receive direct payments
Lawmakers agreed to provide $1,200 in direct payments to taxpayers with incomes up to $75,000 per year before starting to phase out and ending altogether for those earning more than $99,000. Those families that are affected by the pandemic by means of losing jobs or loss in business will receive an additional $500 per child as a safety net.
The legislation will also provide one-time checks of $1,200 to Americans with adjusted gross income up to $75,000 for individuals and $150,000 for married couples. Individuals and couples are eligible for an additional $500 per child. The government rebates will be pared by $5 for each $100 of income over those thresholds, completely phasing out for individuals whose incomes exceed $99,000, $146,500 for head of households with one child, and $198,000 for joint filers who don't have children. The checks will be available to those who have no income as well as people who rely on income benefit programs, such as supplemental security income from the Social Security Administration. The agreement is set to increase current unemployment assistance by $600 a week for four months.
The legislation hit a snag on Wednesday when a group of Senate Republicans attempted to amend the legislation to remove the $600 extra weekly payment for those receiving unemployment insurance because it could result in people getting more money while out of work than they did in their jobs.
Unemployment benefits to increase and reach more citizens
Decision makers and law makers agreed to a small increase in unemployment benefits that would be extended jobless insurance by 13 weeks and include a four-month enhancement of benefits. As per the insistence from Democrats, this program would be broadened to include freelancers, furloughed employees and gig workers, such as Uber drivers. It will  refill the drained state coffers and extend additional resources to health-care providers.
Small businesses to get emergency loans in they keep their workers
As per this bill, small businesses can get federally guaranteed loans from community banks if they agree not to lay off their workers. These loans would be available during the emergency period ending June 30. It would be forgiven if the employer continued to pay workers during the time of crisis. If passed, the new bill would provide loans and other disbursements to a wide swath of the economy, including direct payments to Americans and loans to large and small companies.
The stimulus package included $350 billion in loans to small businesses in an effort to keep Americans on payrolls as economic activity across the country comes to a standstill. Under the new program, loan money that small businesses use to cover payroll expenses, rent, interest on mortgage obligations and utilities will be forgiven. The legislation would also provide billions in debt relief on existing loans.
Government to bailout distressed companies, but with strings attached
Distressed companies will receive loans from a $425 billion fund that is controlled by the Federal Reserve. An additional $75 billion will be available for industry-specific loans — including for airlines and hotels. The creation of the Federal Reserve fund was one of the chief sticking points in the negotiations. Democrats successfully pressed for immediate disclosure of the recipients and stronger oversight, including installing an inspector general and congressionally appointed board to monitor it. Companies that benefit could not engage in stock buybacks while they received government assistance, and for an additional year after that. Democrats ensured that the Trump family businesses — or those of any other senior government officials — cannot receive loan money through that fund, though they could potentially still benefit from other parts of the bill.
Hospitals reeling under the burden of the coronavirus would receive aid.
The agreement includes $100 billion for hospitals and health systems across the nation. It also includes billions more, he said, to furnish personal and protective equipment and increased for health care workers, testing supplies, and new construction to house patients. Lawmakers also agreed to increase Medicare payment increases to all hospitals and providers, the letter said. The legislation will also create a new grant program to send $100 billion to health-care providers, already straining to respond to the rising number of infections across the country.
An additional $16 billion will go toward building a stockpile of medical equipment, including personal protective gear that has become scarce. Expanded tele health, higher Medicare reimbursement for doctors and hospitals, and a delay in certain Medicaid cuts to hospitals are part of the coronavirus package focused on health-care needs during the crisis.