Yoga becomes part of treatment for mental disorders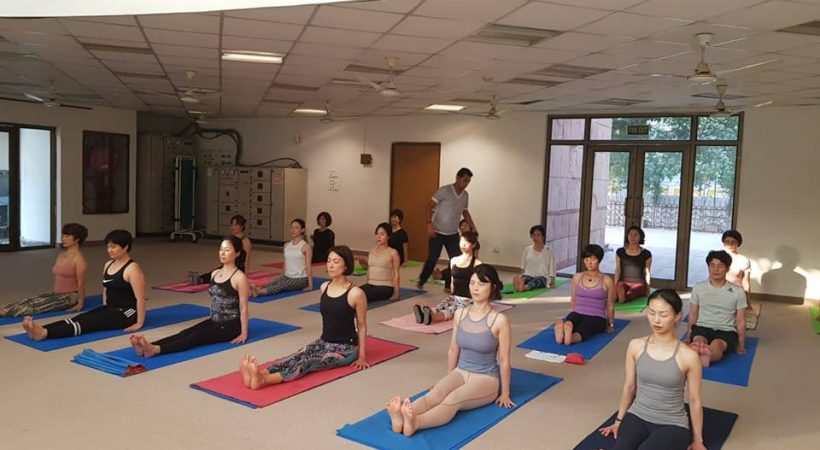 Major Kochi hospitals have  introduced yoga as a part of psychiatric treatment  and the changes that brought to their patients are amazing
Yoga has been in practice for thousands of years  in India. Over the years it has also become very popular across the world with more and more people making it a part of their lifestyle, practising it  regularly. Its therapeutic capability in successfully treating many diseases has changed its earlier image of just a physical exercise programme to keep the body fit. Its amazing prowess in breath regulation technics, controlling  mind and enhancing mental peace are scientifically proved.
Many experts in modern medicine in India and abroad are now  suggesting regular practice of yoga, as part of their treatment  programmes, for many diseases.
They have found practice of yoga and meditation has a highly positive impact on mentally disturbed patients undergoing treatment under them. 
 Though gained accessibility among modern medicine experts now, yoga  and meditation have been an integral part of traditional Indian system of  treatment of people with mental disorders.
Researchers said after studies on patients that some effects of yoga practice  have "reduced stress, controlled emotions, improved mood and well-being, improved cognitive functioning, enhanced respiratory function, improved physical flexibility, muscular strength and neuromuscular performance."
Recently, some major allopathic hospitals in Kerala have introduced yoga a part of psychiatric treatment and the changes that brought to their patients were overwhelming.
Amrita Institute of Medical Sciences (AIMS) in Kochi has  already planned to introduce yoga as part of treatment for its patients.
Dr Sanjeev Singh, medical superintendent, Amrita Institute of Medical Sciences (AIMS) told Times of India recently  that, "Yoga has been planned both as an alternative system and as a meditation programme in our hospital. It will be part of the Behavioural Sciences programme of the institute."
Ernakulam General Hospital, another reputed medical facility in the city  has recently introduced yoga for inpatients in its psychiatry ward. The patients are given yoga lessons daily in the morning and evening. It  showed great improvement in behavioural pattern among patients. 
Rajagiri College of Social Sciences, Kochi is also planning to introduce yoga as part of treatment.
 "We are planning to introduce it here," said Dr Sanju George, professor of psychiatry and psychology at Rajagiri College of Social Sciences, told Times of India.
According  to Times of India, a recent study titled 'Yoga for psychiatric disorders: from fad to evidence-based intervention?', which is co-authored by Dr Sanju George, published in the British Journal of Psychiatry says that,  "Yoga-based interventions have been found to be efficacious in treating major psychiatric illnesses such as depression. Yoga and mindfulness in severe mental illness found reasonable evidence for symptom reduction in psychosis and depression, although evidence is sparse for bipolar disorder." 
The study further states that recent studies reported successful treatment of major depression using yoga as the only treatment.
Nimhans Hospital in Bengaluru has also accepted yoga as a potential treatment option.
Eminent psychiatrist Dr CJ John, Medical Trust hospital, Kochi told TOI,
"We have breathing exercises and progressive muscular relaxation programmes. Though benefits of yoga are now accepted, hospitals prefer to outsource it rather than create infrastructure and space for it in the hospital. This maybe as part of their economic thinking."