'Yoga is the secret of my health,' says Modi. Share your health secret too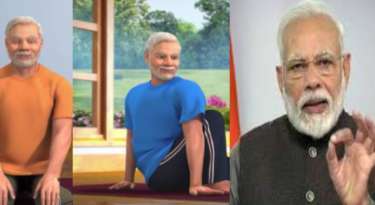 New Delhi: 'Be healthy' says PM Modi thus motivating people during this time of the nation-wide lockdown declared by the government. For this purpose, he also shares some videos of his daily health routines.
"Iam not a fitness freak or health expert. Practicing yoga has been an integral part of my life for many years and I find it very useful. I am sure that most of you have different ways to keep yourself healthy. Please do share them," tweeted Modi by sharing few of his videos.
During my 'Mann Ki Baat' session yesterday, I received a lot of questions about my health. Therefore, I thought it was necessary to share my videos with you. He also added that he thinks that most of us will soon start practicing yoga soon.
He ended his tweet by saying that his yoga videos are available in different languages too.
I am neither a fitness expert nor a medical expert. Practising Yoga has been an integral part of my life for many years and I have found it beneficial. I am sure many of you also have other ways of remaining fit, which you also must share with others.

— Narendra Modi (@narendramodi) March 30, 2020