'Yoga Paatty' is no more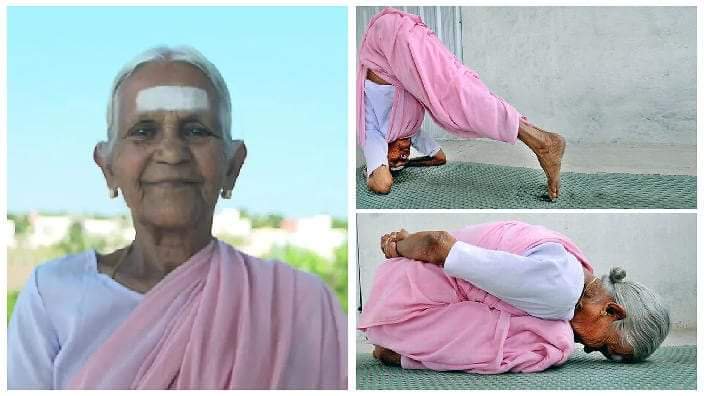 World-renowned Yoga Guru Nanammal dies at 99
The death of India's most celebrated Yoga guru V Nanammal last Saturday (Oct.26) at her  residence near Coiambatore in Tamil Nadu has put  thousands of her disciples across the world in deep sorrow. She was 99.  Fondly called "Yoga Paatty" (Yoga Granny) she was a phenomenon. Those who know  her in India and abroad have always appreciated her amazing Yoga performances,  lifestyle and health at the age of 99. She had never fallen sick or bedridden until last month when she fell from her cot which finally made her confined to bed for a month and led her to a peaceful death.
In fact, she had predicted her death on her husband Venkatasamy's death anniversary 10 days before her fall, that time was up for her to leave. She credited Yoga for the longevity in her life. Her parents and grandparents were also well- known Yoga instructors. 
People used to say, Yoga runs in the blood  of everybody in the family.
She started learning Yoga at the age of three  and had been practising it relentlessly and became an excellent teacher over the years.  She mastered over 50 postures (aasanas) which are simple and most suitable for today's busy lifestyle, which made her very popular. 
It is estimated that over a million people learnt yoga under her able tutelage  and at least 1000 of her students are now teaching Yoga in different parts of the world, such as the US, UK, Australia, China, Malaysia and Singapore.
In fact, members of her entire family consisting of 36 people are now  Yoga instructors, groomed by Nanammal. She herself used to teach over 100 students every day before her fall. She had been running a Yoga centre, along with her son Balakrishnan, called Ozone Yoga Centre at Bharathi Nagar  at Ganapathy, near Coiambatore since 1971.
Despite her much advanced age, she was very active and inspiring.
Clad in her trade mark  pink Sari, she performed every Yoga  posture with much ease while her students, many of them below 30 struggled to follow.  For her age, it is said that, she could bend better than Beckham.
Nanammal's  daily routine also had specialities. Waking up at 5am she gets ready for her daily Yoga practice. She never  broke her discipline. She always insisted her young students to make Yoga part of their daily life, which would help them keep healthy and stress-free. 
Her diet was also special. A strict vegetarian,  Nanammal used to have porridge made of raagi, millets and wheat for breakfast, rice and vegetable curry for lunch and evening was time  for snacks. No over indulgence,no coffee or tea. 
Her contribution to spread this "ancient spiritual and physical discipline form,"  originated thousands of years ago in India, is highly appreciated by the world community.
The nation honoured Nanammal   with conferring Padma Shri, one of the top civilian awards in January this year.  She won the prestigious Nari Shakti Puraskar in 2017 and Yoga Ratna award from Government of Karnataka. This is all apart from  about 150 awards from national and international organisations and six national gold medals.
Nanammal's  Yoga performance on YouTube is one of the most-watched  programmes which brought to her many admirers and followers from across the globe.